By Thomas Hauser
Clay Moyle is 65 years old and has written biographies of Sam Langford, Billy Miske, and Tony Zale. He has also collected boxing books for decades.
Moyle's initial goal was to own a biography of every gloved heavyweight champion. "During that initial pursuit,"
he recalled earlier this year
, "I began to come across other boxing books that I thought might be interesting, so I purchased many of those as well. One thing led to another, and it wasn't long before my new objective somehow became to add every boxing book ever written in the English language to my personal collection."
Moyle acquired 4,500 different titles. The ones that tug most at his heartstrings are books with unique inscriptions. For example, his copy of
God, Gloves and Glory
(a 1956 autobiography by Henry Armstrong) has a lengthy inscription in Armstrong's handwriting that begins, "To the Greatest, Ray Robinson."
Brick-and-mortar bookstores, the internet, auction houses, and personal referrals all played a role in Moyle's collecting. He also bought numerous full collections which led to his having 2,500 duplicates. "When I got serious about collecting boxing books," he says, "I became knowledgeable about their value. Then I realized I could fund my addiction at least in part by selling the duplicates."
Recently, Moyle and his family moved to a new home. In the process, he packed seven thousand books into 350 cartons. But the new home is short on bookshelves and storage space. Thus, with regret, he has decided to sell his collection.
Craig Hamilton (the foremost boxing memorabilia dealer in the United States) has amassed his own library of six thousand boxing books as a historian, dealer, and fan.
"I don't know of many people who have great boxing book collections," Hamilton says. "But Clay certainly has a very good one. It goes deep into the annals of boxing history and includes a lot of rare titles."
But Hamilton cautions," It's a tough sell. Collectors are less interested in boxing books now than they used to be. You don't need them for reference because you can go online for information. They don't display like a fight poster or photograph. And there are a lot of people who would like some of Clay's books but not all of them."
Moyle estimates that, over the years, he put $185,000 into his collection. In recent months, he has reached out to various collectors and auction houses, but they were only interested in buying the high-end items. A tentative deal with a $140,000 price tag that would have allowed him to keep 250 books of particular sentimental value to him was in place earlier this year but fell through.
"The idea of selling the books is gut-wrenching for me," Clay acknowledges. "I've devoted more than thirty years of my life to building this collection. There are titles that took me decades to find at a price I could afford. I've loved sitting in my library surrounded by these books. But it's time."
* * *
Arne Lang is editor in chief of The Sweet Science. He also writes copiously for the site and has authored several books about boxing.
Clash of the Little Giants: George Dixon, Terry McGovern, and the Culture of Boxing in America, 1890-1910
(published by McFarland & Company) is his latest effort.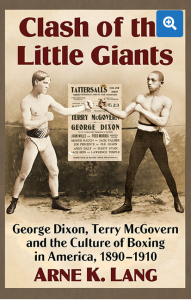 Dixon was the best boxer of his generation and one of the most famous, most idolized Black men of his time. There were ups and downs in his career. Mostly ups. Then, Lang writes, "On one fateful night, he was reduced from a lord of the ring to a has-been."
That night came against Terry McGovern (ten years Dixon's junior) on January 9, 1900.
Dixon and McGovern each won a world title before the age of twenty. Dixon's rise was methodical. McGovern's was meteoric. Dixon's decline as a fighter was slow and torturous. McGovern's was sudden. Both men died in extremis at age 37 (Dixon in 1908 and McGovern in 1918). The profession they had chosen was characterized by what Lang calls "a high risk of debilitation at an early age."
Why so high? Lang offers many reasons, among them Dixon boxed hundreds of exhibitions, occasionally fighting multiple opponents in a single night. In 1894, he was knocked unconscious by a fighter named Walter Edgerton in the second round of an exhibition bout in Philadelphia. According to contemporary newspaper accounts, Dixon didn't open his eyes for two minutes and was groggy for five minutes more. Then he boxed another round.
Joe Gans was Dixon's successor as a ring icon. On October 13, 1902, Gans defended his lightweight championship with a fifth-round knockout of Kid McPartland in Fort Erie, Canada. The next day, he took a train to Lancaster, Pennsylvania, and won a ten-round decision over Dave Holly.
"The goal in chronicling the rise and fall of George Dixon and Terry McGovern," Lang says, "was to learn more about these little giants of the squared circle. But the larger consideration was to acquire a deeper understanding of the culture of bruising in the years straddling the birth of the 20th century."
Mission accomplished.
Thomas Hauser's email address is thomashauserwriter@gmail.com. His most recent book –
In the Inner Sanctum: Behind the Scenes at Big Fights
– was published by the University of Arkansas Press. In 2004, the Boxing Writers Association of America honored Hauser with the Nat Fleischer Award for career excellence in boxing journalism. In 2019, Hauser was selected for boxing's highest honor - induction into the International Boxing Hall of Fame.