By Arne K. Lang
The press has mischaracterized Gervonta Davis's Jan. 7 engagement in Washington DC with Hector Luis Garcia as a tune-up for Davis. Garcia (pictured) is no slouch and if Davis fights as he did against Isaac Cruz, then "Tank" could be in for a long evening. As we recall, Davis won that bout which was contested in December of last year, but had Cruz won an additional round on the cards of Max DeLuca and Carla Caiz, the result would have been a majority draw.
Garcia (16-0, 10 KOs) represented the Dominican Republic in the 2016 Rio Olympics where he lost a split decision in the opening round to a more experienced boxer from Belarus. His signature win as a pro came in February of this year in Las Vegas where he defeated previously undefeated Chris Colbert in what stands as a strong candidate for the Upset of the Year.
The unheralded Garcia, who took the fight on three weeks notice, won 10 of the 12 rounds on one of the scorecards and 11 rounds on the other. He followed that up by unseating WBA 130-pound title-holder Roger Gutierrez, winning a comfortable decision in Hollywood, Florida. On Jan. 7, he will revert to the role of the challenger. Tank Davis, who has won titles in three weight classes, will be defending his WBA world lightweight title.
Davis vs. Garcia will be a pay-per-view event on Showtime which has caused quite a bit of yelping on social media. Hard core fans of the sport, it is said, won't buy it unless it is conjoined with a very strong co-feature. (Showtime has yet to piece together any of the undercard fights.) However, Tank Davis has emerged into the sport's top ticket seller, a magnet no matter who is in the opposite corner.
In his last three fights, Davis drew announced crowds of 16,570 for his bout with Mario Barrios at State Farm Arena in Atlanta – this in a city where the sport had been moribund since the heyday of Evander Holyfield – 15,580 for Isaac Cruz at the Staples Center in Los Angeles, and 18,970 for Rolly Romero at Barclays Center in Brooklyn. His bout with the relatively obscure Romero reportedly drew the highest-grossing crowd in Barclays Center history. Like his mentor Floyd Mayweather Jr, Tank Davis (27-0, 25 KOs) has struck a chord with the Hip Hop crowd, a demographic flush with money.
Beterbiev-Yarde
Anthony Yarde's bout last night in Telford, England, with Stefani Kaykov was a quintessential tune-up. Yarde had a match in the works with WBC/IBF/WBO light heavyweight champion Artur Beterbiev and needed to shed some rust after being out of the ring for almost a full year.
Enter Kaykov whose 14-1 (12) record was a sham. The German-Bulgarian slug had defeated only three opponents with winning records, his previous opponents, in the aggregate had 359 loses, and he was coming off a 4-rounder with a 48-year-old man with 45 losses on his record.
Yarde took care of business and dismissed Kaykov in the third round, elevating his record to 23-2 with his twenty-second knockout.
In his previous fight, in December of last year, Yarde, 31, stopped previously undefeated Lyndon Arthur in the fourth round. That was sweet revenge for the Londoner who had lost a contentious split decision to Arthur in 2020 with a Commonwealth title at stake.
Yarde's other setback came at the hands of Sergey Kovalev in Kovalev's hometown of Chelyabinsk, Russia. Kovalev was in his third reign as the WBO light heavyweight champion.
Yarde hurt Kovalev in the eighth frame but
ran out of gas and was stopped in the 11th
. The stoppage was the result of fatigue rather than any punch or sequence of punches and gave credence to the mantra of old-time trainers that an Adonis physique is actually a detriment to a boxer, corroding his fluidity and his stamina. No one in boxing today has more of the aura of a professional bodybuilder than Anthony Yarde.
[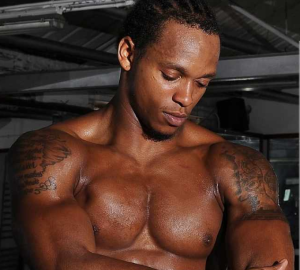 Anthony Yarde
Artur Beterbiev owns three pieces of the world title at 175 pounds, but is best known as the only active champion with a perfect knockout record. At the pro level, the 37-year-old Montreal-based Russian has starched all 18 of his opponents.
After winning his tune-up fight with no-hoper Kaykov, Yarde's promoter Frank Warren announced that the Beterbiev-Yarde fight would be staged on Jan. 28 at Wembley Arena in London. The fight will air on ESPN+ in the United States according to co-promoter Bob Arum.
The Beterbiev-Yarde fight stalls a potential mega-fight between Beterbiev and Dimitry Bivol. But that's putting the cart before the horse. In his second crack at a world title, Anthony Yarde is seemingly a live dog.