By Thomas Hauser
On November 22 (two days before Thanksgiving), Broadway Boxing returned to its geographic roots with a fight card at the Edison Ballroom on 46th Street just off Broadway near Times Square.
Broadway Boxing is the creation of Lou DiBella. Twenty-five years ago, HBO bestrode the sweet science like a colossus and DiBella was its point person on boxing. Then Lou left the network. He hoped to build a roster of elite fighters, make deals with TV networks on their behalf, and outsource a lot of the nuts-and-bolts work to third-party promoters. But circumstances forced him to become a promoter himself.
DiBella's original vision for Broadway Boxing was based on the belief that New York had a lot of talented young fighters coming out of the amateurs and that small fight cards on a regular basis were necessary to accommodate them. His inaugural Broadway Boxing show was contested at the Crown Plaza Hotel on November 21, 2003. Emmanuel and Joshua Clottey were featured in separate bouts.
John Duddy
, in the third fight of his pro career, knocked out Leo Laudat on the undercard.
As Broadway Boxing grew, fighters like Vitali Klitschko, Gennady Golovkin, Sergio Martinez, Paulie Malignaggi, and Andre Berto starred in its events and HBO televised the action on
Boxing After Dark.
But promoting is hard. HBO pulled back and eventually left boxing altogether. DiBella didn't have a network propping him up the way that Premier Boxing Champions (Showtime and Fox), Top Rank (ESPN), and Matchroom (DAZN) do. Nor did he have a foolish investor who was willing to drop millions of dollars on his shows. For a while, Lou had the lifeline of being the promoter of record for PBC. But that time is long gone.
"If I added up all my Broadway Boxing shows," DiBella said recently, "I'm probably down well over a million dollars over the past twenty years. I've made money on about twenty percent of the shows and lost money on the other eighty percent. Usually, I just hope to break even. But when things go right, these shows build my fighters for other platforms. It's a loss if you never get the money back. It's an investment if you do."
[caption id="attachment_74864" align="alignnone" width="300"]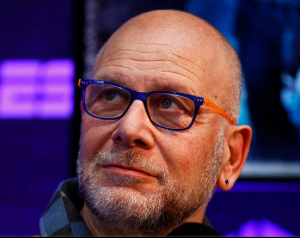 Lou DiBella[/caption]
DiBella's most recent Broadway Boxing show in New York had been at Terminal 5 on December 5, 2019. Mary McGee won the IBF women's 140-pound title that night but Lou took a big hit financially.
"The venue was too hard for most people to get to," DiBella says, looking back on that night. The tickets just didn't sell. It's hard to find a venue in Manhattan, let alone near Broadway, that works. Losing Roseland and B.B. King's [both of which hosted numerous Broadway Boxing cards but were in buildings that were torn down] really hurt."
November 22 marked the 117th edition of Broadway Boxing. Roughly one hundred of these shows have been in New York.
"Good club fights have become prohibitively expensive to promote," DiBella says. "And it's a horrible time to be doing club shows in New York. Everything costs more here. Hotel rooms cost more. Meals cost more. The commission's medical and insurance requirements are the same for the Edison Ballroom as they are for shows at Madison Square Garden and Barclays Center, and they cost a fortune. But I promised myself that I'd do a show in New York before the end of the year."
Jay and Alan Wartski are brothers who love boxing and have been involved with the sport for decades. Alan operates the Edison Ballroom.
"I asked Alan if he could cut me a break to help make the show economically viable," Lou recounts. "Alan told me that the Tuesday and Wednesday before Thanksgiving were open, and here we are. I'm going into this knowing that I'll lose money. The Edison Ballroom will seat about five hundred people on fight night. If I sell out, I'll lose money. But I'm doing this to make a statement. I just want everyone who's there, including me, to have a good time."
There was a party atmosphere at the Edison Ballroom on fight night. DiBella was a gracious host as he worked his way around the room. The best ringside VIP tables cost $3,750 for ten people and included dinner with an open bar. Further away from the ropes, the same amenities could be had for a lesser price. A limited number of tickets without dinner or drinks were available for $125.
Lou changed boxing when he was at HBO and, after he left the network, boxing changed him. "I used to love being in boxing," he says. "It was my life's dream to work in this sport. I was a huge fan. I had incredible enthusiasm. A lot of that is gone now. Not all of it, but a lot."
"I'm viewing this show as a test," DiBella continued. "Not a test of will I make money on it, but a test of the concept of having VIP tables, a good dinner, and an open bar. If I sell the room out and people say, 'This was great; when are you doing it again?' we can go from there."
The first bout began at 7:20 PM. Most of the crowd, incentivized by dinner, was there for the early fights. The food was good. The sight-lines were excellent. The one thing missing was good fights. Clarence Booth tested Mykquan Williams in the main event before fading in the late rounds. But none of the fights caught fire. The A-side fighter won every bout and the action was less than compelling. Many of the spectators had left by the time Williams-Booth started.
DiBella is in the International Boxing Hall of Fame - and deservedly so - for his work at HBO and as a promoter. He has an eye for making good fights. One week before the show at the Edison Ballroom, he said, "Broadway Boxing has had our share of clunkers but we've also had our share of great fights."
Given Lou's track record, one can expect Broadway Boxing to have its share of great fights in the future.
Thomas Hauser's email address is thomashauserwriter@gmail.com. His most recent book –
In the Inner Sanctum: Behind the Scenes at Big Fights
– was published by the University of Arkansas Press. In 2004, the Boxing Writers Association of America honored Hauser with the Nat Fleischer Award for career excellence in boxing journalism. In 2019, Hauser was selected for boxing's highest honor - induction into the International Boxing Hall of Fame.