A ferocious, one-punch knockout becomes even more memorable when -- to use a hoary expression – it snatches victory from the jaws of defeat. Jordan Gill's KO of Karim Guerfi on Feb. 27 on a Matchroom card at London's O2 Arena was just such a knockout. The noted boxing scribe Scott Christ, taking in the action on the DAZN feed, was reminded of Diego Corrales vs. Jose Luis Castillo.
The punch, a short right hand that landed right on the button, came with one second remaining in round nine. Karim Guerfi was knocked out the cold; the referee didn't bother to count. If the bell had sounded one second earlier, no one would have faulted Gill's corner for stopping the fight.
Gill vs Guerfi was the co-feature to a WBO world cruiserweight title fight between
Lawrence Okolie and Michel Cieslak
. At stake was Guerfi's European featherweight title.
This was a fast-paced, fairly even fight though the first five frames. Guerfi had a strong sixth and turned the fight sharply in his favor in the seventh. In this round, Gill visited the canvas twice, the second time in an unconventional fashion.
A big left hook knocked Gill off his pins. Later in the round, as he was ducking low with his back against the ropes, Guerfi hooked his left arm around Gill's neck and threw him to the mat. Gill landed on his head and the Frenchman landed on top of him.
Gill fought the next round with his back against the ropes, eating leather in what could have reasonably been scored a 10-8 round for Guerfi although there wasn't a knockdown.
Gill came out of his corner for the ninth on unsteady legs and the ninth round followed the same tack as the eighth, until…BOOM! The punch that no one saw coming sent the crowd into a frenzy. Jordan Gill, who had scored only seven knockouts in 28 fights coming in, scored a KO for the ages.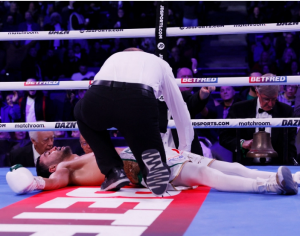 Jordan Gill's nickname is "The Thrill," an inscription he wears on his boxing trunks. He certainly lived up to his nickname on this particular evening, but he proved to be something of a one-trick pony. In his very next outing, Kiko Martinez sheared the European title from him, stopping him in the fourth round. Gill's current record stands at 27-2-1.