This is the concluding segment of our story in which we pay homage to boxing notables who left us in the past year.
July
July 12 – JERRY PELLEGRINI. A welterweight who was a barber by trade, hence his nickname, "The Fighting Barber," his rather pedestrian record (28-12-1) obscured the fact that during his prime in the 1960s he acquired a big following in his native New Orleans. At age 78 at his home in Chalmette, Louisiana, from complications of pulmonary fibrosis.
July 27 – MAURENZO SMITH. A journeyman heavyweight who was still active at the time of his death, Smith, a widower, was shot dead by the estranged husband of the woman he was dating at a Houston-area restaurant. He won his last eight fights by stoppage, seven in Colombia, advancing his record to 29-13-4 before he drew his last breath at age 44.
August
Aug. 4 – JOHNNY FAMECHON. The Aussie version of Willie Pep, the silky-smooth Famechon was one of Australia's most admired sportsmen. He won the WBC world featherweight title in 1969 with a 15-round decision over Jose Legra in London and won two of his three title defenses before quitting the sport at age 24 with a record of 55-5-6. In Melbourne at age 77 after a long illness.
Aug. 9 – LARRY BUCK. Born on a ranch in Washington's Yakima Valley, Buck, a light heavyweight based in Seattle, turned pro in 1966 at age 29 after serving in the Army and compiled a 25-5-4 record. He was stopped only once, that coming on cuts. At age 86 in Shelton, Washington.
Aug. 15 – RODOLFO MARTINEZ. One of many outstanding boxers spawned in the Mexico City barrio of Tepito, he won the WBC world bantamweight title in 1974 with a fourth-round stoppage of three-time rival Rafael Herrera and made four successful defenses before losing the belt to the great Carlos Zarate. He finished 44-7-1 (35). At age 75 in Irapuato, Guanajuato, Mexico where he was suffering from Alzheimer's.
Aug. 20 – GODFREY STEVENS. One of the few Chileans to fight for a world title, Stevens was recognized as the South American featherweight champion when he challenged WBA belt-holder Shozo Saijo in Tokyo in 1970, losing a 15-round decision. He finished 68-10-3 while answering the bell for 717 rounds. In a nursing home in Canberra, Australia, at age 84.
Aug. 22 – JIMMY FARRELL. Fighting exclusively in New England, the Bay State featherweight compiled a 17-4-3 record in a five-year career that began in 1975. When his fighting days were over, he ran a series of boxing gyms in and around Quincy, Massachusetts that produced 40 regional amateur champions and dozens of pros. At age 69 after a long battle with cancer.
Aug. 27 – MOGENS PALLE. Elected to the IBHOF in 2008, Palle was the face of boxing in Denmark for more than 60 years. The second-generation promoter manufactured a slew of European champions, beginning with Tom Bogs, and several world title-holders, notably super middleweight Mikkel Kessler. At age 88 in Copenhagen where he was battling cancer,
Aug. 28 – EVERETT "BIG FOOT" MARTIN. The quintessential gatekeeper, Martin fought 15 former or future heavyweight title-holders. He went the distance with George Foreman, Michael Moorer, Tony Tucker, Larry Holmes and Wladimir Klitschko in their first encounter and outpointed Tim Witherspoon, finishing 20-39-1 in a 17-year career that began in 1984. At age 58 in his hometown of Tyler, Texas. Details are sketchy.
Aug. 29 – RIGOBERTO RIASCO. After failing to take the world featherweight title from Alexis Arguello (L TKO 2), he dropped down in weight and became the first modern super bantamweight champion. He retired in 1976 after losing the belt to Royal Kobayashi, returned for an encore in 1981, and finished 26-9-4. At age 69 in his native Panama City from an undisclosed illness.
Aug. 31 – TED SARES. A prized member of the TSS family where he was our most active contributor to the Forum, Sares fell in love with boxing as a boy in Chicago, authored dozens of stories for online boxing magazines, and was always ready to lend a helping hand to an ex-boxer in need. A world-class professional powerlifter into his 80's, the New Hampshire resident was 85 when he passed away within days of learning he had pancreatic cancer.
]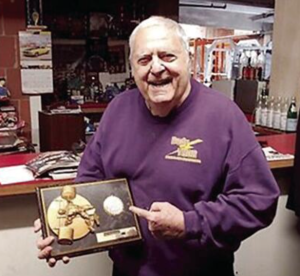 September
Sept. 1 – EARNIE SHAVERS. Recognized as one of the hardest punchers in the history of boxing, Shavers KOed 69 of his 90 opponents, finishing 75-14-1, but came up short in two stabs at the world heavyweight title, losing to Muhammad Ali (L 15) and Larry Holmes (L TKO 11). In retirement he became a Christian minister and motivational speaker and turned up frequently at autograph shows. At age 78 after a lingering illness at the home of a daughter in Roanoke, Virginia.
Sept. 7 – BORGE KROGH. A two-time Olympian, Krogh was 43-8-5 (9 KOs) as a pro during an 8-year career that began in 1964. Although prone to cuts and lacking a big punch, he rose to #2 in the WBA ratings and was briefly the European lightweight champion. In retirement he became a respected trainer and then a high school math teacher. At age 80 in his native Aalborg, Denmark.
Sept. 13 – HORACIO ACCAVALLO. The most underrated flyweight of all time
in the estimation o
f the noted boxing historian Matt McGrain
, the Argentine southpaw was in his second reign as a world champion when he left the sport in 1968. He was 49-1-1 over his last 51 fights, finishing 75-2-6. In retirement, he built a successful chain of sporting goods stores. At age 87 in a Buenos Aires nursing home after a decade-long battle with Alzheimer's.
Sept. 19 – ISIAH JONES. A 2016 national amateur welterweight champion (he defeated future Olympian Troy Isley in the finals), Jones pro career never took flight; he finished 9-7. A 28-year-old father of three, he was shot dead by his brother during a family dispute at a home in his native Detroit.
Sept. 29 – LUIS QUINONES. A junior welterweight from Barrancabermejo, Colombia, Quinones was 10-0 heading into his 10-round match with his friend Jose Munoz at Barranquila. Knocked down in the eighth round, he fell into a coma and died five days later without regaining consciousness. He was 25 years old.
October
Oct. 2 – EDER JOFRE. Widely considered the greatest bantamweight of all time, Jofre held the world bantamweight title from 1960 to 1964 and went on to win the WBC featherweight title after returning to the sport after a three-year retirement. Victorious in his last 24 fights, he finished 72-2-4. At age 86 in his native Sao Paulo, Brazil, after a lengthy hospital stay for pneumonia.
November
Nov. 2 – JOE LOUIS MURPHY. A 1950s-era welterweight whose parents named him for Joe Louis, Murphy was no great shakes as a pro boxer, going 13-11-2 in documented fights, but for decades he was the glue of boxing in Albuquerque, serving the sport in every capacity. At age 86 in Albuquerque from complications of COVID-19.
Nov. 4 – J.J. JOHNSTON. An actor who performed opposite Al Pacino in the 1983 Broadway revival of David Mamet's "American Buffalo," Johnston was best known within the fistic fraternity as a historian and memorabilia collector. A co-authored a book about Jimmy McLarnin and two richly illustrated monographs on the history of boxing in Chicago. At age 89 in his beloved Chicago.
Nov. 19 – MARK POTTER. A burly heavyweight who customarily carried about 235 pounds on his 6'1" frame, Potter was 14-2 when he challenged Danny Williams for the British title in 2000, losing on a TKO 7. He finished 21-5. At age 47 in London from stomach cancer.
Nov. 20 – BUSTER DRAYTON. A former Marine sergeant, he was 32 years old when he won the IBF 154-pound world title in 1986, wresting the belt from Carlos Santos on a 15-round decision. He made two successful defenses in France before losing the belt to Matthew Hilton in Montreal. He was 40-15-1 when he left the sport for a career in law enforcement. At age 70 in his native Philadelphia of unspecified causes.
Nov. 24 – MOISES FUENTES. The lanky Fuentes won the WBO 105-pound title in 2011 and made four successful defenses including a stoppage of legendary, albeit faded, Ivan Calderon. He retired with a 25-6-1 mark but returned to the ring after a three-year absence in October of last year at Cancun and was stopped in six frames by Mexican countryman David Cuellar. He left the ring on a stretcher with a brain bleed from which he never fully recovered, dying at age 37.
December
Dec. 1 – LUCKETT DAVIS. A longtime biology professor at Winthrop University, Davis spent countless hours scrolling through old newspapers in search of missing and misidentified fights and came to be recognized as one of the sport's foremost boxing historians. A charter member of the International Boxing Research Organization (IBRO) he was 90 when he passed away at his home in Rock Hill, South Carolina.
Dec. 6 – MILLS LANE. The former Marine was an NCAA boxing champion and 10-1 as a pro before entering the legal profession where he advanced to the post of a district court judge. He went on to become a TV and MTV personality, building on his fame as the third man in the ring for some of boxing's most bizarre fights, including the infamous "Bite Fight." He was elected to the IBHOF in 2013, eleven years after suffering a debilitating stroke. At age 86 in Reno.
Dec. 11 – BOBBY CASSIDY. Active from 1963 to 1980, the Long Island southpaw fought mostly as a middleweight. He headlined several shows at Madison Square Garden while finishing 59-16-3, a record that would have been better if he wasn't prone to cuts. His son of the same name became a boxing writer for Newsday. At age 78 in Levittown, Long Island, where he was suffering from dementia.
Dec. 19 – STEVE SMOGER. The Hall of Fame referee was the third man in the ring for more than a thousand fights during a 34-year career that lasted until 2018. A law school graduate and 30-year member of the U.S. Air Force Reserve, he also served as a municipal court judge in Atlantic City. At age 79 in Ventnor, NJ, after a long illness.
Dec. 23 – JERRY ROTH. A Las Vegas commercial real estate broker, the Scranton, PA native worked 235 world title fights during a 34-year career as a boxing judge. In 2017, two years after he judged his final fight, he was elected to the IBHOF. At age 81 in Las Vegas of an undisclosed illness.
For Part One
CLICK HERE