2023 is barely two months old and it has already been an outstanding year in the greatest sport. We've had Leigh Wood's wonderful, painstakingly careful attempted deconstruction of Mauricio Lara ending in the disaster of a knockout; Luis Nery's brutal, eventual dispatch of Azat Hovhannisyan; that strange mini-war between Jeremias Ponce and Subriel Matias. We are on a good run.
But all these fights, while thrilling, are not vital. They are not the hot blood of the machine. If they had not happened – if Ponce had lost instead to Jose Zepeda and Matias had instead beaten Steve Spark…well, no harm done if we are frank.
There are fights though, for which this isn't true. No exchanges, substitutes, nor excuses are acceptable. They have to happen. And if they don't, blood escapes the machine.
These are those fights, with a little bit about why.
Oleksandr Usyk vs Tyson Fury
Where else to start? The revelation of the date and site of this fight was promised to us by Bob Arum weeks ago; clearly Fury's veteran promoter believed that Saudi Arabia was set to deliver. The latest, sparse intel is that this has not come to pass, with rumoured disharmony concerning both a newly constructed fight-venue and the enormous fight purses.
Meanwhile, Tyson Fury's pre-disposition to a fifty-fifty split has melted away along with the promise of Saudi riches. A 60/40 split is the preference of Fury as regards a possible London showdown in front of 90,000, a defendable position but not one that has met with the approval of Team Usyk who have been chasing a 50% cut of whatever riches the fight delivers.
If Fury and Usyk do not meet there are essentially two competing lineal championship reigns. On the one hand there are those who didn't recognise Tyson Fury's last retirement and consider the Englishman lineal; on the other, there are those who considered him retired and recognised the meeting between the number one and two contenders in the form of Usyk and Anthony Joshua as swiftly crowning a new champion. It is bad enough trying to understand what is happening in a division where the WBA and WBC can recognise five champions between them at times but when the very soul of championship honours is up for grabs, the sport's flagship division is in trouble. Usyk and Fury could go on bullying contenders between them into 2025 and we could all be none the wiser as to who the number one man is.
Will it happen? I think it will, but I have an awful feeling we will not get it next. I had an ugly suspicion that Fury's decision to match the long-suffering Derek Chisora was as much about keeping Usyk inactive into the summer, as it was about the fight itself. Maybe I am providing too much – or too little – credit but that would at least make the fight likely for late summer, by which time Usyk will have been out of the ring for a year.
Josh Taylor-Jack Catterall
This all-British showdown would be a rematch of last February's raucous and controversial twelve round decision that went in Josh Taylor's favour. Jack Catterall immediately demanded a rematch, and one was agreed. The two were scheduled, after a long and winding road, to meet this month, Taylor's divisional kingship on the line.
Taylor then reportedly detached a tendon from a bone in a foot and just like that, Catterall's rematch had evaporated, and he had been cursed with a year out of the ring. Worse, the WBO decided that Teofimo Lopez was now the mandatory for their title at 140lbs and ordered Taylor to meet him. Taylor, fearful of losing yet another strap while he tries to get fit for the Catterall rematch, accepted. While there is something about that fight that does interest, Taylor has been hounded online and in the media about his failure to make a rematch of a fight many thought he lost.
It's an unwinnable situation for the Scotsman. Even if he meets and defeats Lopez people will say that he should have matched Catterall, while making 140lbs becomes increasingly difficult for the division's number one.
This is yet another example of an ABC intervening to hurt the sport. The selection of Lopez, who is 2-0 at the poundage for this decade, as mandatory, has more to do with his run at 135lbs than it does the fistic reality at 140lbs, but Taylor will argue his hands are tied. Catterall, meanwhile, has been cheated of a much-deserved title tilt and the most significant payday of his career.
Will it happen? Josh Taylor has sworn it will, but a lot could serve to derail it. I'm sure Taylor would pass if Catterall lost his next fight, yet to be announced at the time of writing, but likely to be fought at the end of the month; Taylor could easily end up tied up with Lopez for two fights; his relationship with 140lbs is an uneasy one and his last fight at that weight could be anytime, including next time. History has shown that delaying a legacy fight – and this is that for both men – is as likely to sabotage that match as enhance it.
Thammanoon Niyomtrong-Panya Pradabsri
Thammanoon Niyomtrong (24-0) lives in Surin, Thailand. Panya Pradabsri (39-1) lives a fifty-minute flight away in Thailand's capital, Bangkok. Niyomtrong is the world's number one at 105lbs; Pradabsri is the number two.
These are the best two fighters in the division, elite talents, who almost guarantee a high quality, dramatic fight, and there is no sign of it, nor has there been since they summitted. Neighbours in global terms, they are entwined in Bangkok's promotional rivalries and relationships, Niyomtrong (aka Knockout CP Freshmart) promoted by Petpiya Fight Promotions, a subsidiary of Petchyindee Boxing Promotion, first and foremost a Muay Thai promoter, and a fine one. Pradabsri is promoted by Piyarat "Tung" Vachirarattanawong for - Petchyindee Boxing Promotion. This relationship, it would seem, should make the fight easier to make, not more difficult but so far this seems not to be the case.
From their modern facility on the outskirts of Bangkok, the promotional team feed fighters into ONE, the world's premier Thai Boxing organisation and this would seem to be their chief source of income. They have a storied past, one that has carried Muay Thai from a more traditional space in the seventies to a modern arena in 2023 but their approach to boxing seems to be centred on drawing as much money as possible to Thailand and to their promotional coffers. This includes keeping their promotional crown jewels separate yet together, unbeaten as titlists even at the expense of crowning one true champion.
In a way, it is difficult to blame them. Purse bids for even bigger fights for Nyomtrong and Pradabsri tend to be around 200,000 dollars, no fortune. The 105lb division is famously one in which it is difficult to make big money.
Will it happen? Yes, it will – but not until one of the two Thais has been taken, or until there is a clear read that one of them is about to be taken. Then, and only then will these two fabulous boxers be allowed to fight.
Errol Spence-Terence Crawford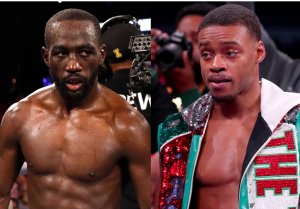 Terence Crawford has been a welterweight since 2018; Errol Spence has been a welterweight since he turned professional in 2012. They have been ranked the top two fighters weighing 147lbs for more than fifty months and yet they have not agreed to fight.
This is an obscenity and should they eventually meet it may be a costly one for either Crawford (thirty-five years old) or Spence (thirty-three years old) as they creak past their respective primes with their fiercest opponent – one another – still ahead of them. For surely, despite the car crashes and the accusations and the counter-accusations, these two Americans will end up in the same ring on the same night at some point in the not too distant future. They have fewer excuses than the others on this list and direct access to the riches of the American television market to smooth their way through negotiations.
On the face of things, small details are the problem. Crawford had even accepted the smaller end of the purse according to ESPN, but wanted further transparency on expenses due to their being no fixed purse, presumably due to advanced agreements on percentages relating to pay-per-view money. This is the kind of tiny detail that can derail a fight worth millions of dollars, and I often think it is not the detail being argued that really counts. What really counts is that one alpha-male millionaire elite athlete might struggle to take a knee to another alpha-male millionaire elite athlete more than once, if at all.
Add Al Haymon to the managerial risk, a man who it might be said prefers to protect his fighters from what he sees as adverse risk, and we have had something of a perfect recipe for disaster. Crawford's determination to achieve independence from a controlling promoter is admirable as is his apparent acceptance of the short end, but he is now the roadblock to what on paper is the best fight that can be made in the sport. That is a serious impediment to legacy. At the time of writing, it looks like he will be facing Alexis Rocha (22-1) the next time he steps to the ring, rather than Spence.
But will it happen? I hope so. Crawford's age and what has been a lengthy negotiation process which has come to naught means that if Crawford signs another contract he would be thirty-six years old by the time the fight was made. Insiders have deemed the fight "unachievable" but money does talk and there are millions being left upon the table. I think looming retirement coupled with the moderate purses to be made elsewhere in the division should deliver this one.
Artur Beterbiev-Dmitry Bivol
Artur Beterbiev and Dmitry Bivol were both born in Russia, both are light-heavyweights and both pound-for-pound talents. Their styles gel, their physical assets gel and the winner would be deemed one of the very best fighters in the world and the greatest light-heavyweight champion of the modern era.
And so far, there is no sign of it being made.
The clock is very much ticking as Beterbiev is now thirty-seven years old. Next year, or the year after, he will start to fail and although the standards which are applied to older fighters are higher, unfairly, I felt that he showed small signs of slippage
last time out against Anthony Yarde, who he stopped in eight.
Beterbiev and Yarde split an estimated 950,000 dollars fighting in front of a partisan London crowd with the British broadcast controlled by telecommunications giants BT. Despite being backed by that corporate wealth and 12,000 paying customers at Wembley, the two couldn't break a million dollars.
Bivol made a similar payday for his last fight in Russia, against Umar Salamov. In front of a home crowd against a fellow Russian, these two did not get so close to a million dollars as Beterbiev did travelling to London for Yarde. To make the big money, Bivol had to tempt superstar Canelo Alvarez north to 175lbs and Beterbiev represents a much higher risk for Bivol than Alvarez did; the purse will be a fraction.
Bivol and Beterbeiv have nowhere to fight. There is no big money in Moscow and no interest in London. It may be the case that boxing can turn yet again to the Middle East, Bivol's people have connections in Abu Dhabi, but even here Bivol's purse barely topped 500,000 dollars. It is not clear what these men would look for in order that they meet each other but this will be the toughest fight of their respective careers.
Will it happen? I have my doubts. Bivol and Beterbiev can pocket 500,000 dollars for fighting fighters they will expect to beat in third gear. Each will need his absolute best to better the other. How much is that worth? And where will that money come from? I suspect we will miss out on this one; there is likely no greater tragedy on this list.
Three of these five pairs share a country. Some of them even share promoters – but what they
all
share is a determination that the risk should match the reward. Fighters don't want to be paid the same to fight at the pinnacle as they do on the slopes and, if they do, they want compensation as control elsewhere in the mined territory of the modern boxing contract. Going all the way back the 1800s and the failure of the mighty John Sullivan to match Peter Jackson, the failure of the most important fights to come off has made its mark upon the suffering soul of boxing almost as indelible as the huge fights that happen.