Wine and nightlife stalked Terry McGovern through the middle years of the first decade of the 1900s and as its grip on him tightened so the torque departed from the most terrible punches of his generation. McGovern became just another good fighter.
The blown-out tornado of his brilliance left cracks in his soul. Into them crept uncertainty. He took solace in horses, his other great love, but this one was not so kind to him as boxing had been. Losing huge sums gambling, he sought instead to stay close to the track as an owner but here too he was deceived by his own judgement. As the cracks within him widened, McGovern began to see his horses winning when they were losing; when friends explained to him the truth of the matter he would stalk and scowl and brood. Money fell from him as opponents once had - what the newspapers gently referred to as "domestic troubles" beset him. What referee Billy Roche called McGovern's "single vulnerable spot", his temper, began to betray him – and on the third weekend of April 1905, McGovern awoke in Stamford Hall Sanatorium suffering from "nervous, mental and physical exhaustion." It was not his first visit. He escaped, of course, pursued by police, a watch put on the railway stations that led back to his beloved Brooklyn, but Terry dodged them, and popped up once again at the racetrack.
"I'm fine now," he assured well-wishers concerned at his gaunt appearance, concerned at rumours he was pursued. "I hardly think it will be necessary for me to return."
He did return, many times, in 1907 for a "complete physical and mental breakdown" according to
The Pittsburgh Press
. In 1909 he was arrested for drunkenness and then taken before a board of psychiatrists before being sent once more to a facility. "He is a shadow," lamented
The Montreal Gazette
, "of the splendidly developed, sinewy youth who thumped George Dixon into retirement."
A shadow indeed, but where McGovern cast that shadow in 1900, mere mortals trembled, and great fighters fell. Dixon and Palmer lay broken behind him; McGovern, before the late nights and the booze caught up with him, before bankruptcy and evil purpose beset him, The Butcher of the new century had one last royal bloodline to cut.
The bantam and featherweight champion of the world threw his shadow across lightweight king Frank Erne.
Erne was a monster. He was barely older than McGovern was when he first met with Dixon down at featherweight, but he managed a ten-round draw against the great Canadian when Dixon was arguably in his prime. A year later in November of 1896 he became the first man ever to beat Dixon in a meaningful contest, besting him over twenty desperately close rounds but besting him nonetheless. Dixon took his revenge a matter of months later, by which point Erne had departed featherweight for what may remain the deepest lightweight division in history.
Erne dominated it.
His first effort against power-punching champion Kid Lavigne was a narrow draw but after out-pointing the superb contender George McFadden who had just become the first man to knock out the immortal Joe Gans, he got another crack at the champion and "battered the title out of him" according to one observer.
Then he stopped Joe Gans on a cut after just twelve, Gans quitting on his stool in half the time it took McFadden to turn the trick, and it was as he summited this awe-inspiring peak that Terry McGovern chose to step up and face him. This remains one of the boldest decisions in boxing history.
The seed of the fight germinated in a controversy that, according to boxing promoter and sometime manager of Frank Erne, "Big" Jim Kennedy, developed in the months preceding. Word reached McGovern's ear that Erne had witnessed an unidentified McGovern contest and was unimpressed. McGovern immediately invited Erne to meet him at 126lbs; Erne returned the favour at 133lbs – and the idea was quietly shelved.
But it wouldn't go away.
Sometime around the beginning of June of 1900, it re-surfaced in earnest with Erne reportedly challenging McGovern to a meeting at 128lbs. Despite this, protracted negotiations followed between Erne himself and McGovern's manager, Sam Harris. The sticking point seemed to be whether the fight should be made at 128lbs or 129, an argument which took a little less than twenty days to resolve (readers of parts one and two will be able to understand the necessity of McGovern sending his representative rather than attending himself).
What emerged was an agreement that neither man would weigh more than 128lbs at ringside, that the contest would be fought over ten rounds, that Erne could not win unless it was by a stoppage and that the lightweight title of the world would not be at stake for that reason.
The arrangement caught the imagination of the press immediately.
"This is one of the greatest matches ever made," wrote boxing correspondent JB McCormick. "Erne will have the advantage in height, reach, and in skill, but he will have the disadvantage of being compelled to make the pace. McGovern is the most aggressive fighter in the ring to-day and there is very little likelihood of his fighting a merely defensive battle."
[caption id="attachment_76181" align="alignnone" width="196"]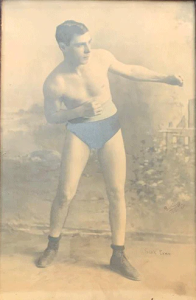 Frank Erne[/caption]
John L. Sullivan, too, believed that McGovern wouldn't seek to "last the distance" but rather that "Terry will knock Erne's block off!"
Nevertheless, McCormick was right. Height, reach and skill is not a combination that many fighters moving up in weight can overcome, more expressly one that had rocketed, as McGovern had, from flyweight to bantamweight to featherweight in a little over three years, long before the advent of performance enhancing drugs designed to enable this process. More than that, McGovern was seeking to do so against a world champion who had never been stopped who was at the absolute peak of his powers.
Still, there were signs that he should be at least competitive. While Erne had been in three desperately close fights with George Dixon, McGovern had devastated him in just eight rounds, then thrashed him once more for a six-round decision. Also, in the gap between his battles with the world featherweight champion and the world lightweight champion, McGovern had smashed the superb Oscar Gardner to pieces in just three rounds after an early scare. His form was every bit as impressive as Erne's but was being displayed in the division below – could he move up successfully once more?
Erne established his training camp in the waterfront resort community of Fair Haven, New Jersey, several hours away from Madison Square Garden where he was to have his prime dashed like so much blood upon the canvas in just eighteen days. McGovern, as always, stayed close to home, setting up camp at a facility on Jerome Avenue in the Bronx. As chief sparring partner he employed the
superb lightweight contender George "Elbows" McFadden
, the same man who had defeated Kid Lavigne and Joe Gans and fought Erne himself so hard the year before, as shifty and tough a fighter as lived.
"McGovern is doing all this work with the understanding that the fight with Erne will be one of the hardest he ever had," wrote
The St.Louis Republic
who had a reporter in New York from July the first. "Erne is doing faithful work at Fair Haven…with the help of his sparring partners [he] is gradually reducing his weight to 128lbs."
Making weight may have become a struggle for the lightweight champion. On the ninth, one week before combat he threatened to "saw off" his left leg to drop the necessary pounds. On the tenth, weighing 134lbs, he went further.
"In truth I am compelled to admit I will have a hard time to make the weight," he told the
Washington Evening Star.
"I would have no trouble in making 130 pounds but this 128 pounds is going to kill me."
Erne could buy his way free of the contractual obligation but at the cost of $1,000, around $30,000 in today's money. When it was suggested he might do so, he again threatened to saw off his leg rather than pay such an amount.
The
Star
itself was not convinced, noting that Erne was "one of the cleverest fighters in the world… and it is hardly probable he would have made such a match unless he knew he would not have the worse end."
Sure enough, betting on Erne began to heat significantly on the fourteenth when it was reported that he had made it below 128lbs with two days to spare and had stopped training. When the
New York Sun
reported that he had made weight "without imperilling his vitality" the lightweight champion became the betting favourite. Then Erne announced that he was still weighing 129lbs and intended to continue to train until 1pm on the day of the fight.
The Brooklyn Eagle
confused matters further by reporting that Erne weighed no more than 126lbs, and given the fact that he eventually weighed in at 126.5 in the dressing room, this is likely the accurate report. Whether Erne's harping on the weight and then beating the mark with apparent ease was a psychological ploy, a distant ancestor of Bernard Hopkins and his weigh-in for the fight with Oscar De La Hoya, or whether he over-trained in the hot New York summer will now never be known.
McGovern paid no mind except to place $1,000 upon himself to win by knockout.
He would collect that bet. Standing in a ring awash with another champion's blood at the end of the bout, legendary referee Charlie White, who had refereed over the last eighteen months almost every top man of the era including Joe Walcott, Joe Gans and James Corbett, looked from his left cuff, soaked with Erne's blood, and then to the pressmen at ringside and said:
"I'll tell you boys it'll be a long time before you see anything like that again. McGovern could lick two heavyweights in one ring. I never saw a faster fight."
Hours before the fight, what the
New York Sun
described as "a mob" collected outside the Garden; the police had to be called in order that they might be kept under control. When the two-dollar cheap seats went on sale, there was a "stampede" as a thicket of working-class New Yorkers wrestled each other out of the way in the hopes of seeing the fight. The floor of the venue baked in a sea of humanity despite the removal of the glass roof, an electric chandelier hanging above the ring an absurd genteel detail in contrast to both the heated mob of fight fans and the violence about to break out below.
Ringside sat a thicket of fistic royalty. John L. Sullivan bellowed still in favour of McGovern and was joined by a more reserved Bob Fitzsimmons. James J Corbett took a seat next to him, flanked by Joe Gans and Australian middleweight Dan Creedon. As Kid McCoy, strongly in favour of Erne, Peter Maher, George Dixon, George McFadden, Tommy West, Jack Blackburn, Joe Walcott, Jack McAuliffe and a host of other champions and contenders took their seats tension began to build as those yet to lay money waited for the news on Erne's weight – when it arrived, McGovern became a slender favourite in betting. A friendly argument developed between McCoy and Corbett as to who would take the laurels resulting in a sizeable bet made by Corbett that the fight would go the distance and that McGovern would get the better of it.
Erne entered first wearing black trunks and was greeted rapturously, seeming "nervous" and "trained down very fine but…strong." McGovern followed shortly behind, wearing pink trunks with a green belt, possibly fashioned from an Irish flag. At 10:40pm the bell for the first round sounded and the superfight was underway.
Erne looked far the bigger in the ring with some newspapermen erroneously reporting for him a height advantage of four inches as McGovern crouched and battered his way inside. Probably Corbett tore up his betting slip in that very first second; McGovern could no more seek to box the distance than he could fly. Erne, who was contractually obliged to stop the smaller man, was a lion to McGovern's pitbull and he stood his ground, lashing out with the terrible left that had prevented Kid Lavigne from swarming him. Next day reports are clear upon the matter of McGovern's reaction to Erne first ripping this punch to the top of his head: he laughed.
But Erne was an experienced, perhaps a great champion, and when he was rushed next he stepped back and timed a right-hand and McGovern was down, whereupon Erne landed a second punch, a left. Erne stepped back, nodded as the referee warned him for landing a punch while his opponent was on the canvas and then circled the referee who was counting "two" and there was McGovern – laughing still. He was set back on his haunches, laughing, shaking his head, like he had made some embarrassing but harmless mistake. He lifted his head, winked at someone in Erne's corner, smiling. He took the nine, his head clear, and then according to the wire report "sprang up and mixed it madly."
"McGovern's rushes have been called blind rushes," wrote
The Brooklyn Eagle.
"But no greater mistake was ever made. He is keenly aware for an opening at all times and his blows are never wild swings at anywhere, but carefully attempted knockouts." Within the first ninety seconds Erne was bleeding from the nose, rallying for space. Speed was the difference as much as power, but more than that, McGovern was tough enough that the bigger man's punches just weren't hurting him. "Erne used his left hand with the best results," reported the
New York Sun
. "But though he landed it flush upon the jaw and upon the stomach on several occasions it had little or no effect upon McGovern."
So. in the second, Erne broke ground and began to back up, jabbing as he went. McGovern nodded, and hurled himself after the lightweight champion, this, his meat and bread. Such was his fury that Erne's attempt to smother the pace backfired and after forty or fifty seconds of feeling the jab out, the fire burned more brightly. "It was a fight, pure and simple," according to the
New York Tribune, "
one of the most brutal and ghastly ever seen in the city." A straight-right to the heart at the end of the round sent Erne back to his corner pale-faced, and although one newspaper reported that McGovern, too, finished the round in some discomfort, it was McGovern who threw himself at Erne at the beginning of the third.
The
Tribune
: "The ring looked like a butcher shop in the [third] round. McGovern fought Erne all over the ring. Erne's nose was split from the top to the bridge and the blood flowed so freely that both men were covered from head to foot…it was Erne who shed it all."
"Erne was game as a bulldog," continued the
Eagle
, "but the blood hurt his breathing and a terrible left to the wind hurt him more. He began to clinch to try to save himself and only got beaten away again…McGovern swung his left flush on the cheek bone and Erne went down."
Erne rose. McGovern dropped him again after just seconds, landing two-handed to his blood-sodden face. Propped up on one hand, his face a mass of gore, heaving for breath, he was a "terrible sight indeed." There is nothing in the sport sadder than a deluxe boxer taken apart by a ring-savage but Erne had nothing left to give. He raised himself again and again McGovern, merciless, closed and rained blows down upon him. Erne toppled. Before he hit the canvas the sponge was tossed up by his corner. The Year of the Butcher was over. McGovern dangled from his waist the scalps of the bantam, feather and lightweight champions of the world.
Erne tried to give McGovern the title belt and McGovern cheerily refused him. Then he went to the racetrack. At first Erne offered "no excuses" and said he was "beaten fairly" but soon he was claiming, perhaps truthfully, that making 128lbs had hurt him. He had been hurt in a different way
in
the ring. Erne, like Dixon, like Palmer, would never be the same again. He went 3-3-1 in his next seven fights and never won another championship fight.
McGovern seemed relaxed, cheerful, content. It is a disturbing contradiction of the human condition that he could appear so strong when beset by powerful hitters and brilliant opposition in the ring and reign down destruction upon them with a smile on his face, and all but fall apart mentally in the following years.
He made it all the way to 1918, once again demonstrating that innate toughness that served him so well in his savage pursuit of glory and money in the prize-ring, before presenting himself at New York's Kings County Hospital late in February and applying for medical aid. Despite having earned close to $100,000 before his twenty-first birthday, he was penniless.
His mother was by his side that night when he slipped into unconsciousness, his wife, who had a difficult life with Terry, perhaps hesitated, but in the end set out to be with him. She arrived minutes before he passed away, most probably from pneumonia. He was thirty-seven years old.
How best to remember him? He is known now, if he is known at all, for his victory over Joe Gans, a meeting that took place shortly after his destruction of Erne. This fight was most likely fixed and as a defining memory it taints his legacy. Had it been the Palmer film that had survived and the Gans film that had been lost, I believe he would be regarded as highly as the likes of Stanley Ketchel or Barbados Joe Walcott whereas McGovern seems often a footnote compared to those two men. I'll go on record here and say that I consider him greater than both of these, a more terrible monument to the sports brutal and wonderful savagery than either, closer in distinction to George Dixon and Gans. His prime, though short, was breath-taking, and for sheer enormity of achievement it may represent the single most astonishing year in the history of the sport, though Henry Armstrong, and perhaps Harry Greb, would have plenty to say about that.
Although perhaps not. Three true champions from bantamweight to lightweight crushed in the space of ten short months by a former flyweight is an incredible achievement. Terry McGovern did it all with a smile on his face, and a roar in his heart.