Canelo Alvarez last fought on Mexican soil on Nov. 26, 2011 when he stopped Pennsylvania import Kermit Cintron in the fifth round in Mexico City at the Plaza de Toros, the world's largest bullring. Since then, Canelo has fought exclusively in the United States, 22 fights in all.
All that will change on May 6 when Canelo will welcome John Ryder to his neck of the woods. Canelo Alvarez (58-2-2, 39 KOs) and John Ryder (32-5, 18 KOs) will touch gloves at Estadio Akron, a domed stadium on the outskirts of Guadalajara with a listed capacity of 49,850.
Ryder hails from Islington, the most densely populated borough in London. He won't be the first British entity to appear at this venue which opened in 2010. An early ice-breaker pit the local professional soccer team against Manchester United, the New York Yankees of the English Premier League. The locals won 3-2.
[caption id="attachment_76273" align="alignnone" width="300"]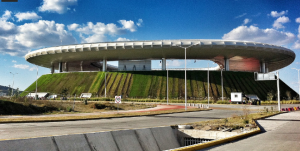 Estadio Akron[/caption]
Canelo is expected to have an easier time of it with Ryder who became his WBO "mandatory" when he stopped countryman Zach Parker in November. That bout ended one second into round five when it became obvious that Parker couldn't continue because of a broken hand. But Canelo, who holds all four belts at 168 pounds, had many options; he is beyond the stage when he lets a sanctioning body dictate his next move.
In picking Ryder, Canelo was scolded by some in the media for cherry-picking. Oscar De La Hoya, his former promoter, weighed in with a similar sentiment. "The John Ryders of the world," opined De La Hoya, do nothing for his legacy. "He's regressing in terms of picking opponents."
Canelo, it's true, has feasted on Brits. He's fought seven in bouts sanctioned for world titles, in chronological order Matthew Hatton (UD 12), Ryan Rhodes (TKO 12), Amir Khan (KO 6), Liam Smith (KO 9), Rocky Fielding (TKO 3), Callum Smith (UD 12), and Billy Joe Saunders (TKO 8).
There are three common opponents on this list, Fielding, Callum Smith, and Saunders, all three of whom scored wins over John Ryder. The loss to Fielding sticks out like a sore thumb but it's worth noting that Fielding had the home field advantage in Liverpool and the decision was controversial.
Ryder's setback to Liverpool's Callum Smith in Liverpool was more controversial yet. The decision was unanimous (117-111, 116-112, 116-112), but it struck many that the judges scored the fight with their ears. Here is Sean Nam's post-mortem: "Ryder outworked and outlanded Smith for the majority of the second half of the fight, pushing his taller foe up against the ropes and ripping shots to the body and head…Ryder was the aggressor and, more importantly, the more effective fighter…[Callum Smith] had no answer for Ryder's inside game…"
Three of Ryder's five losses, including the narrow 12-round setback to the slick-boxing Saunders, came at middleweight when it was a strain for Ryder to make the weight. Fighting exclusively as a super middleweight, he is 8-1 in his last nine with the only blemish coming in his bout with Callum Smith.
Since his last outing, Canelo Alvarez had surgery on his left hand. There was no fracture, he says, but he had trouble clenching his fist, hence the need to go under the knife. It was an old injury that pre-dated his
third encounter with Gennady Golovkin, which he won handily
, notwithstanding this impediment. However, one wonders if the procedure may have created more problems than it solved.
The first betting lines on the fight show Canelo a consensus 14/1 favorite. And, yes, it's certainly hard to envision him losing a homecoming fight in his backyard to anyone, let alone a 34-year-old Brit, on Cinco de Mayo Weekend. Each time Canelo lands a clean punch, the noise will be deafening and the judges will almost certainly give him the benefit of the doubt in any close rounds.
"Domestic-level" is the label that has been affixed to John Ryder by fight fans outside the UK, and perhaps the disparagement fits, but the view from here is that Ryder has the tools to make things interesting and this will not be another stroll in the park for the red-headed Mexican super-hero.
Stay tuned.