"I have never seen anything like it," said Glenn Azar, a world traveler who at age 51 was visiting Las Vegas for the first time. "There's great depth here and everyone has been so welcoming."
Azar wasn't a conventional tourist. He came here from Australia with a small stable of professional boxers. There's nothing unusual about that. Boxers come to Las Vegas to train from all corners of the world, just as artists that paint pictures once descended on Paris to hone their craft. The main lure for foreign boxers is the city's deep pool of useful sparring partners.
Where Azar deviates from the norm is that the fighters he mentors – Taylah Robertson (pictured), Cherneka Johnson, and Deanha "Dee Dee" Hobbs -- are female. Brisbane's Robertson, a super flyweight, fights tonight (Thursday, March 30) on a Lee Baxter promotion in Toronto.
Azar spent 17 years in the Australian Army where he specialized in helicopter evacuations and advanced to the rank of lieutenant.
Before he got involved with the trio of boxers that he trains and manages, he turned his thirst for adventure into a successful business, leading intrepid adventure-seekers on long treks across daunting terrain such as New Guinea's Kokoda Track, a rugged 60-mile mountainous trail that can be traversed only on foot.
Azar's daughter Alyssa, now 26, inherited her father's thirst for adventure. At age 19 she became the youngest female to climb Mount Everest and has reached the summit from both the North and South sides.
Taylah Robertson was two fights into her pro career when she approached Azar about managing her. Thus began a new chapter in his life.
Before turning pro, Robertson was a two-time national amateur champion at 112 pounds and represented Australia in tournaments in Bulgaria, Poland, Russia, Turkey, Spain, and New Zealand. She brings a 7-1 record into tonight's assignment in Toronto with the setback coming in her fourth pro bout when she lost a split decision to 28-fight veteran Shannon O'Connell.
Unlike her coach, Robertson had been in Las Vegas before. Her prior visit was arranged by one of her biggest fans, Australian boxing legend Jeff Fenech, who arranged for her to train with Bones Adams at Adams' gym.
Bones' gym was on Glenn Azar's itinerary, but he and his little ensemble worked out at multiple boxing gyms during their three-week stay. Afternoons were often spent at the DLX gym where Azar arranged for one of boxing's hottest young trainers, Kay Koroma, to provide a helping hand. Koroma played an instrumental role in the amateur career of Claressa Shields and
co-trains Mikaela Mayer alongside the venerable Al Mitchell
. Taylah Robertson was familiar with Koroma from her amateur days.
Cherneka Johnson
Cherneka "Sugar Neekz" Johnson (15-1, 6 KOs) is the reigning IBF world super bantamweight champion. She makes the third defense of her title on May 20 in Dublin underneath Katie Taylor's homecoming fight with fellow unbeaten Chantelle Cameron. Johnson's opponent, Ellie Scotney, a 25-year-old Londoner, is 6-0 as a pro after a decorated amateur career. On paper it's a 50/50 fight.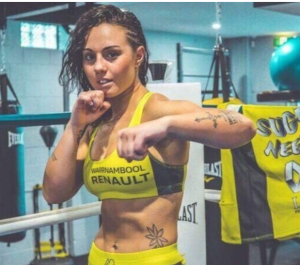 Cherneka spent the first 12 years of her life in her native New Zealand. She is a proud member of the Maori ethnic group and her tattoos pay homage to her culture. Last week, a robust sparring session with WBA world female bantamweight champion Jamie Mitchell attracted a crowd at the Mayweather Boxing Club.
Deanha Hobbs
At age 35, Hobbs is the senior member of Glenn Azar's team. She took up boxing, she says, to learn to defend herself against the schoolyard bullies that picked on her because of her tomboyishness. It's a fairly common thread in the life story of many female athletes in the combat sports communities.
Hobbs sports an 11-2 record and has knocked out six of her opponents. She has won three straight since suffering an eighth-round stoppage in a failed bid for Mary McGee's IBF 140-pound world title. To secure that assignment, which paid peanuts, Hobbs had to move up two weight classes and travel halfway around the world. She fought McGee, a Hoosier, in the Greater Chicago city of Hammond, Indiana.
---
When Taylah Robertson turned pro, one of her listed goals was to become the first female fighter to earn a million dollar purse. Katie Taylor and Amanda Serrano beat her to the punch, but she may yet reach that lofty sphere.
"Women train just as hard as men," says Azar, "and their fights can be just as exciting. I look forward to the day when there is purse parity. It will take time, but because she is only 24 years old, I can envision Taylah getting there before her career is finished."
And if that day should come, Glenn Azar can take a bow.