By David A. Avila
Oscar De La Hoya sat with a satisfied look inside his glittering building on Wilshire Boulevard, unveiling plans to stage a welterweight showdown between southpaw contenders next month.
Lately, the six-division world champion turned promoter from nearby East Los Angeles has attended every boxing show produced by his company Golden Boy Promotions. Big or small, the former fighter who acquired millions as a prizefighter has put full attention on expanding his boxing empire.
Golden Boy Promotions has reloaded.
On Tuesday, De La Hoya discussed plans to match Alexis Rocha with Top Rank's Giovanni Santillan on Saturday, October 21, at the Kia Forum in Inglewood, Calif. DAZN will stream the show.
Rocha (23-1, 15 KOs) seems to have gained his man strength. Five out of seven of his past foes have not heard the final bell. The Orange County fighter's seek and destroy style has made him a crowd favorite throughout Southern California.
Santillan (31-0, 16 KOs) is a different kind of cat. The San Diego-based welterweight was groomed by Thompson Boxing Promotions and then aided by Top Rank. With the loss of promoter Ken Thompson who passed away earlier this year, Top Rank has taken over the reins of the crafty fighter.
Both Rocha (pictured with Oscar) and Santillan are familiar with each other through sparring.
"I feel that I've grown so much over time and now's my moment, and I want to keep just banging on the door for a world title. I know that Giovani is going to be a good opponent," said Rocha who is based in Santa Ana.
San Diego's Santillan expressed excitement about fighting in Los Angeles.
"This isn't the first time that I go into enemy territory," Santillan said. "I think that I will gain the LA fan base after this fight."
It's the kind of fight that would have sold out the Olympic Auditorium down the street. Battles between fighters from rival towns in Southern California resulted in fights like Bobby Chacon versus Danny "Lil Red" Lopez, or East L.A.'s Ruben Navarro versus South L.A.'s Raul Rojas.
Crosstown rivalries made the
Olympic Auditorium
a legendary venue for decades. And the Los Angeles area has always been a hotbed for boxing talent. Always.
De La Hoya knows that and has lived it.
"As Golden Boy, we know our position, we know exactly what we have to do in order to position that fighter to get them to that world title. Alexis Rocha is knocking on the door. Giovani has an amazing opportunity. So, this is what boxing is all about," said De La Hoya.
MarvNation
Welterweights Eduard Skavynskyi (14-0) of Ukraine and Mexico's Alejandro Frias (14-9-2) headline the main event at Thunder Studios in Long Beach, California on Saturday Sept. 23.
This is Skavynskyi's first time fighting in the U.S. All his previous fights were in Russia and Ukraine.
Also, co-headlining are female minimumweights Yadira Bustillos (7-1) and Katherine Lindenmuth (5-1) in a rematch set for eight rounds.
Bustillos fights out of Las Vegas and Lindenmuth is based in New Mexico and looking to avenge her loss a year ago.
For tickets and information go to:
https://www.tix.com/ticket-sales/ma...fchk0wwkftjganfmww6bayhkj7autu-mhjyz8ll__ycga
Heavyweight Rematch in England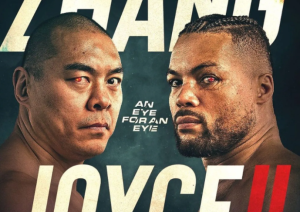 Once again, the United Kingdom presents a heavyweight show and this time a rematch between China's Zhilei Zhang (25-1-1, 20 KOs) and England's Joe Joyce (15-1, 14 KOs) on Saturday, Sept 23. ESPN will stream the Frank Warren boxing card from London.
Zhang stopped Joyce in the sixth round this past April. Can he do it again?
Welterweight showdown in Florida
Jessica McCaskill (12-3) and Sandy Ryan (6-1) meet for several welterweight world titles on Saturday, Sept. 23, in Orlando, Florida. DAZN will stream the Matchroom Boxing card.
Super lightweight Richardson Hitchins (16-0, 7 KOs) test top contender Jose "Chon" Zepeda (37-3, 28 KOs) in the co-main event.
Conor Benn
is also on the card.
Fights to Watch
Sat. ESPN+ 2 p.m. Zhilei Zhang (25-1-1) vs Joe Joyce (15-1).
Sat. DAZN 5 p.m. Jessica McCaskill (12-3) vs Sandy Ryan (6-1); Richardson Hitchins (16-0) vs Jose Zepeda (37-3).
Alexis Rocha photo credit: Golden Boy / Cris Esqueda