Griffa wins and waits for Serrano; Matthysse loses comeback fight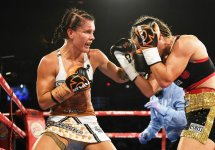 Two outstanding Argentine female fighters took their careers in completely different directions this week, in a rare all-female double-header broadcast live by DirectTV Sports from Laguna Larga, Cordoba on Saturday, June 24.
The biggest shock came in the co-main six rounder in the featherweight division that was supposed to mark the return of former two-time world champion Soledad Matthysse, sister of Lucas, who was absent for 15 months following the loss of her title at the hands of her former victim
Jelena Mrdjenovich
. She picked a soft touch in southpaw Natalia Aguirre, with a record of 6-10 before the fight and with nine of those losses in consecutive fashion.
But Aguirre never got the memo, and after six intense rounds, Matthysse ended up seeing her loss column add another notch when she dropped a unanimous decision by scores of 60-56, 60-54 and 59,5-56,5. As much as Aguirre's underrated grit and courage were to blame for her victory, it is also true that Matthysse never quite got into the groove of things and allowed her limited rival to cruise to victory almost uncontested.
It was a tough blow for the uneven but exciting career of Matthysse, nicknamed "Itaka", whom oddly enough was the first full-fledged world champion (without counting interim belts) in a family of fighters that includes her brothers Lucas and Walter, her father Mario, her uncle Miguel Angel Steimbach and even her mother Doris (who had a 2-0 record as an amateur at the age of 40) and her husband Mario Narvaes, brother of former two-division titlist Omar Narvaez.
Griffa
In the main event, Laura Griffa took what appeared to be a dangerous warm-up fight barely a month before the biggest challenge in her career when she faced Cristina Pacheco in a ten-rounder to defend her Argentine super bantamweight title and capture the South American trinket in the same division, and the gamble paid off when the Trenque Lauquen native took home both belts after a solid performance rewarded by scorecards of 98,5-93, 98,5-95 and 98,5-94 in a unanimous decision victory.
Griffa (14-1, 1 KO) was her usual dominating self, keeping a perfect distance and landing a variety of punches almost at will against the feisty but overmatched Pacheco to send her down to .500 territory and put her personal mark at a deceiving 10-10-2 (1 KO). However, Griffa tired noticeably towards the end and looked vulnerable to counterpunches, which could surely be a problem against her next opponent, Puerto Rico's WBO super bantamweight titlist Amanda Serrano.
But according to Griffa, that will not be a problem at all, but for reasons other than her excessive confidence or arrogance.
"We haven't heard anything yet," said the still-stunned Griffa, who claims that she found out she would be facing Serrano through a poster that circulated on the internet, without receiving as much as a call from anybody linked to the champ's camp. "I don't know where this poster came out of. Neither me nor my promoter know where this came from. We never got the call. We really don't know how they advertised this fight without even talking to us," said Griffa, echoing the complaints made recently by Omar Narvaez and his failed negotiation with Emmanuel Rodriguez of Puerto Rico, in which similar misunderstandings were alleged by both parties in a negotiation that finally did not take place.
Indeed, one has to wonder how wise it was to engage in a 10-round bout only one month before facing the fearsome Serrano (32-1-1, 24 KO) in her home turf of Puerto Rico and with a world title belt at play. But after a six-month hiatus after her last bout (a loss in New Zealand against Australia's Shannon O'Connell back in December of 2016), Griffa needed a confidence-building win, and she got it against Pacheco. Now the question is whether she will put this last-minute live training session to good use in what would be her first world title challenge.
The phone, as of today, has not yet rung.