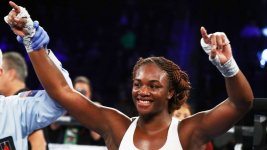 By David Avila
Not satisfied with just winning belts Claressa "T-Rex" Shields will now fight for the WBC super middleweight title it was announced on Wednesday.
A mere two weeks after capturing the WBC Silver super middleweight title, Shields (3-0, 1 KO) now will take aim at WBC super middleweight world titlist Nikki Adler (16-0, 9 Kos) on Aug. 4, in Detroit Mich. Showtime will televise the main event at the MGM Grand Detroit.
The 22-year-old Flint, Michigan product recently fought 12 days ago and won a unanimous decision against a rugged sturdy opponent in Sydney LeBlanc. The fight went eight rounds. It was the first time Shields had fought that distance.
"I get counseled by a small number of people but it's Claressa herself that gives me the most insight on her status. She is very mature beyond her years on that matter," said Mark Taffet, her co-manager and former vice president at HBO. "She said first I need to fight six rounds, then eight rounds and then fight for the championship. She fought eight strong rounds in her last fight."
Adler, 30, fights out of Bayern, Germany and has both the WBC and IBF super middleweight world titles. Both have a common opponent in Hungary's Szilvia Szabados who went 10 rounds with Adler in 2015, but was stopped by Shields in four rounds last March.
More than a few wonder if Shields is ready for the undefeated German veteran.
Shields captured Olympic gold medals in 2012 and 2016 by defeating a number of international amateur stars in Europe, Asia, South America and North America. She is very familiar with the European style that Adler possesses.
Taffet said that Adler will be Shields toughest opponent but also brings the most attention for the former two-time Olympic gold medalist. Then, if successful, Shields will be gunning for another German-based fighter WBC middleweight titlist Christina Hammer.
"Christina Hammer will be in attendance," said Taffet. "If Claressa beats Nikki Adler then Christina Hammer will be another great fight."
Cyborg
Lately, Shields has kept fan attention with her recent sparring with MMA star Cris "Cyborg" Justino in Orange County, Calif. It drew nationwide attention as the two prizefighters traded blows for several rounds. A video recording of the sparring became an instant favorite among fight fans of both boxing and MMA.
"Claressa got tremendous coverage with Cyborg," said Taffet. "They developed a friendship and Cyborg is expected to attend Claressa's fight with Adler in Detroit. They have a lot in common."