By Arne K. Lang
Sandy Ryan turns 30 on Saturday. She won't be celebrating; there's no time for it. Ms. Ryan and her coach Clifton Mitchell will be in transit travelling from her training camp in Las Vegas to Orlando, Florida where she has a date with Jessica McCaskill on Sept. 23 on a Matchroom card on DAZN. At stake will be three of the four meaningful pieces of the world female welterweight title.
Ryan holds the WBO diadem. McCaskill owns the WBC and WBA belts. The missing piece belongs to Liverpool's Natasha Jonas.
Sandy Ryan hails from Derby (that's DAR-bee for you Yankees), a city of 170,000 or thereabouts, situated roughly 130 miles southeast of London. As an amateur, she was a Commonwealth Games gold medalist. A shoulder injury knocked her out of the Tokyo Summer Olympics. It impelled her to forego the first Olympic qualifier and when the second qualifier – at which she would have been favored – was cancelled because of Covid, she was on the outside looking in.
Turning pro under the Matchroom umbrella, Ryan was fast-tracked in recognition of her deep amateur background. She won her first three pro fights before losing a 10-round split decision to wily Argentine veteran Erica Annabella Farias.
"The loss made me a better boxer and a better person," she says. "I have grown a lot since then."
She grew fast, one assumes, as she avenged the setback in her very next outing. Unlike their first meeting, she did not allow Farias to set the pace and emerged the winner on all three cards. And then, two fights later, she captured the WBO belt in Cardiff, Wales, with a wide decision over Canada's Marie-Pier Houle.
In preparation for McCaskill (15-3), Ryan spent three weeks in Las Vegas training at the DLX gym. Mitchell, her regular trainer from Derby, was with her the whole while but in many of her workouts he readily ceded his authority to Kay Koroma.
A rising star in the ranks of boxing trainers, Koroma came to the fore during his years with Team USA where he mentored Claressa Shields, among others.
He co-trains Mikaela Mayer alongside Al Mitchell
. Ryan was familiar with Koroma from their amateur days where they crossed paths at several international tournaments.
On Tuesday of this week, as we watched Koroma put Sandy through her paces, we found it odd that Koroma was wearing a Team Mikaela Mayer shirt. Although Mikaela has been competing in a lower weight class, there's a high probability that she and Sandy Ryan will meet some day.
"I think that will probably happen" says Ryan. "I respect what Mikaela has accomplished. I consider her a friend. But if we ever fight, it will be strictly business."
Sandy Ryan has a soft smile and there's an Irish twinkle in her eyes that says she is having fun, notwithstanding the rigorous workouts that leave her so exhausted that by her day off she's too tired to explore the Strip and other attractions that are a magnet for tourists. This is her first trip to Las Vegas and, for her, this may as well be Des Moines.
Ryan fell in love with boxing while shadowing her older brother Dave Ryan to Clifton Mitchell's gym. Dave "Rocky" Ryan left the sport in 2916 with a 17-10 record after getting stopped in five rounds by future four-belt super lightweight champion Josh Taylor. Now married with three daughters, he works as a top assistant to longtime pal Alex Lowes, one of the world's top motorcycle racers. Dave will be flying to Orlando to see the fight, as will several of Sandy's friends.
]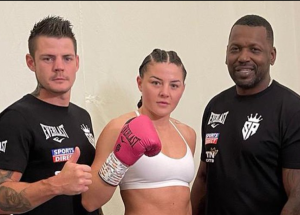 As for Derby, where she was born and raised, Sandy says, "it's a city, but it's also a small community." She dreams of someday fighting at the local soccer grounds, Pride Park Stadium (capacity, 34,000), but expects her first match in the city would be at Pride Park's adjacent velodrome, the Derby Arena, which could be expanded to hold 5,000 for a boxing event.
That's putting the cart before the horse, of which she is well aware. "This will be my toughest fight," she acknowledges. Indeed, Jessica McCaskill, a late bloomer who was working at a Chicago investment bank when she took up boxing, will go to post a small favorite if the odds hold up. A former two-division champion best known for her back-to-back wins over previously undefeated Cecilia Braekhus, "CasKILLA" is returning to the welterweight division after a brief foray into the 140-pound weight class.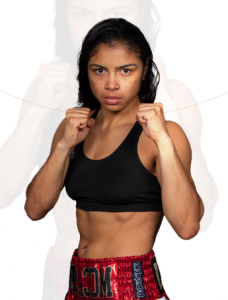 Jessica McCaskill
What Ryan has going for her is youth. McCaskill is 39, as is Natasha Jonas. "I'm young for the division," she says. "It's time for a new era."
There's been a lot of controversy lately about whether women should be allowed to fight 3-minute rounds. "In sparring, I have often sparred 4-minute rounds," she says. "It would be nice for it to be equal if that's what it would take for us to be paid equal. We train just as hard as the men."
Sandy will have finished her sparring by the time that you read this. In Orlando, it's all about staying sharp; not losing her edge. Ryan vs. McCaskill, Sandy's U.S. debut, will be the co-feature preceding the 12-round contest between super lightweights Richardson Hitchins (16-0) and Jose Zepeda (37-3).
Last edited: