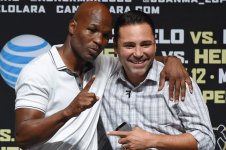 By Frank Lotierzo
During his prime -- which lasted so long it's hard to pinpoint exactly when he was fighting at his absolute best -- he was physically gifted and gargoyle tough, but perhaps above all else, it was his boxing aptitude that set him apart from 99% of his contemporaries. We're talking about a fighter who was great at finding his opponents weakness and then somehow forcing them to fight from it. Perhaps most importantly, he understood what he could do best and what his few vulnerabilities and limitations were. Yes, former middleweight and light heavyweight champ Bernard Hopkins held world titles for nearly 20 years fighting as a boxer, counter-puncher and even a street fighter via a foul, push, or elbow here and there.
After compiling a career record 55-8-2 (32) between 1989 and 2016, having fought every name fighter within 10 pounds of his weight, North or South, he retired last December, and now works for Golden Boy Promotions, owned by friend and former ring foe Oscar De La Hoya. In addition to that, Hopkins has become the go-to-guy for many in the boxing media regarding his thoughts on style breakdowns and fight predictions. And when it comes to assessing what it takes to win inside a boxing ring, Hopkins understands tactics and styles as well as anyone.
What makes Bernard so good is how he speaks with authority, and that results in him seldom if ever being challenged on his thoughts and opinions. I can't think of many instances where I heard Hopkins say something or break down a particular fight in which I disagreed with him - until recently, when he said.....
"In September, a lot of people are going to be in shock. Power normally rules and it still does but every now and then things happen that sort of shakes up the theory. It's happened before and it'll happen again. September you will see history made and it's not going to be as hard as people think it's going to be."
"Once he shoots his load (Golovkin) and realizes he has to go to Plan A, B, C, and D," explained Hopkins, we have to see if he knows his ABC's. Canelo can fight more styles than not. If he stays focused and doesn't get into a shootout with a guy that has a shotgun that's two feet away, he's playing with fire."
Hopkins is suggesting Canelo Alvarez is too versatile and adaptable for Gennady Golovkin. And he basically suggests that GGG, based on his last fight with Danny Jacobs, isn't diverse enough for Canelo. Bernard's inference is that Jacobs proved Golovkin is stymied by a good boxer who uses the entire ring. However, what he glaringly leaves out is that Canelo fights nothing like Jacobs and sometimes moves as if he has two left feet. Aside from both being professional boxers, they share nothing else.
I can't take Hopkins' words seriously here. I think he's wearing his promoter's hat and trying to sell his fighter, Canelo, and the upcoming fight with Golovkin -- because there's no way he believes what he said about Canelo fighting different styles and he knows just as well that attackers like Golovkin *-- and yes, that's what GGG is -- never have a backup plan. A fighter who swarms his opponent adopts that style out of necessity and not choice.
As much as many in the media and boxing establishment want to paint Golovkin as being a boxer-puncher, he's more of an attacker, because he can only be effective forcing the fight. Force him to go back and he's a fish out of water. The only thing he does different than most attackers is that he jabs his way in sometimes, but both Joe Frazier and Mike Tyson used their jab more than they were credited for, and they were died-in-the-wool swarmers just like Golovkin.
It's astonishing how so many so-called boxing guys, in order to sound smarter than they are, try to make every fight like a NASA malfunction that only a few scholars can solve. Sometimes it isn't all that complicated when deciphering styles. That said, the upcoming Canelo-Golovkin bout isn't a hard one to dissect strategically or stylistically. Both fighters depend on their punching power and strength to wear down and overwhelm their opponents, with the biggest difference being that Canelo waits for the big counter and Golovkin goes first with the intent of forcing his opponent to defend and survive. Canelo wants his opponents to throw so he can fill the hole created when they punch. Golovkin forces his opponents to engage with him.
In the main, Golovkin is a fighter who is driven by his punch and power. He doesn't out- finesse or out-box anybody. He takes the fight to his opponents with the singleness of purpose being to knock them out or hurt them to the point to where they can no longer defend themselves. He enters the ring assuming he's the stronger fighter and whatever incoming shots he takes is worth the tradeoff for landing one or two of his own. With the exception of Danny Jacobs, every opponent since he's been an elite fighter has fought him with the intent of occupying him and preventing him from beating them down...in other words instead of fighting to win, they sensed his overload of power was too much for them, so they were only fighting to go rounds and survive. Jacobs was able to use his legs and fight on the move, thus he wasn't forced to trade with Golovkin. Jacobs made GGG pick up his feet more than the others so that Gennady was never truly set to unload on him with everything he had....and that enabled Jacobs to win rounds and go the distance. The problem is that Canelo doesn't move or fight anything like Jacobs.....not even remotely close.
Stylistically, Canelo applies subtle pressure while inching towards his opponent. He looks to induce his opponents to throw at him in order to counter them. When he fights Golovkin, GGG will take it to him and force him to fight with his back to the ropes. If Golovkin is half the fighter that he's been hyped to be, he'll look to overwhelm Canelo with his aggression and volume punching, with the intent of his power forcing Canelo to either fight it out with him, hold him, or look to get away from him. If Golovkin is truly the stronger fighter and bigger puncher, Canelo will be forced to rush his shots and not get everything on them, thus it'll be easier for Golovkin to walk him down.
If the swarmer vs. the counter-puncher holds form, Golovkin should have Canelo on the back foot, leaving him no chance to counter because there is too much coming at him -- reminiscent of the first clash between heavyweight champ Joe Frazier and challenger Jerry Quarry back in June of 1969. And this is why Hopkins can't truly believe what he said, and is speaking as a promoter. Canelo vs. Golovkin boils down to who has the bigger guns, the sturdier chin, and the most stamina. There is no plan-B for Golovkin. He's going to go right at Canelo with the intent of beating him down. If Canelo's shots at him as he forces the fight bother him enough to where he can't become bold and walk through them, and because of that he has to think his way in, he's going to lose.
Golovkin can only fight Canelo one way; he must force the fight and dictate the tempo and the geography. If his power doesn't force Canelo to move away and try to box from outside, GGG is in trouble. That's right, if GGG has to rely on jabbing, footwork and movement, he will lose the fight. There's is no secret or stylistic mysticism pertaining to Canelo-Golovkin. The fight will be determined by the fighter with the surplus of strength and physicality. In other words, they have to fight it out and trade - simply because neither of them can beat the other by trying to be cute or out-boxing the other. Both have shown they're vulnerable to movement and swift-footed fighters. Luckily for them, neither can be successful in this fight other than being who they are stylistically. In this one, the fighter who is forced to go away from who he is as a fighter -- gets beat!
If Hopkins really meant what he said, namely that Canelo can modify his style but Golovkin can't, he's wrong. There's no such thing as Plan B or Plan C for either fighter. Yes, professional boxing is much more cerebral than just throwing punches. Some pundits and fighters speak of it as if they're breaking down computer components, and that's way too much unnecessary shop talk for this match-up. Not often, but sometimes it really does come down to who's the stronger and tougher man....and if ever there was a fight in which that applies, its Canelo vs. Golovkin. There's only Plan A for them.
Check out more boxing news on video at
The Boxing Channel
Frank Lotierzo can be contacted at
GlovedFist@Gmail.com