Administrator
Staff member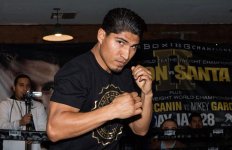 There are champions and then there are champions. Some are content with protecting their title and their domain with the satisfaction of a fat cat with a ball of yarn.
But others aren't satisfied with ball of yarn content. Instead they constantly push the degree of danger in their lives. They invade other divisions where the opponents are bigger and hit much, much harder.
Mikey Garcia likes challenge.
The former Oxnard prizefighter Garcia (36-0, 30 KOs), now living in Riverside County, meets another just like him in Adrien Broner (33-2, 24 KOs) on Saturday July 29. Both have collected multiple world titles in multiple weight divisions. Their clash in Brooklyn will be televised by Showtime.
It's a challenge fraught with danger.
Most fail to realize that Broner has accumulated four world titles in four weight divisions including the welterweight belt. He lost that to Marcos Maidana in 2013 and then lost to another welterweight, Shawn Porter, which led to a decision to drop back down to the super lightweights.
Broner, 27, won the WBA super lightweight title from Khabib Allakhverdiev by stoppage in 2015. Then he lost the title on the weight scales.
A world title is not the goal in this clash between Garcia and Broner.
"It's a high profile fight with Adrien Broner," said Garcia while wrapping his hands before a sparring session with four different boxers. "It's one of the reasons I took this fight."
Broner and Garcia pit two contrasting styles of prizefighting and come from areas known for boxing excellence.
The Cincinnati area where Broner resides has long been a bastion for boxing gems like Ezzard Charles, Aaron Pryor, Tim Austin and others.
Garcia hails from Oxnard but moved to the Riverside area seven years ago and was followed by his brother and trainer Robert Garcia a few years ago. The Robert Garcia Boxing Academy was opened during the move and now has become a beehive of boxing activity. Fighters come from all over the country to work with the Garcias and their aggressive boxer-puncher style.
Mikey Garcia, 29, turns 30 in December and has ascended in the boxing world as one of the top 10 fighters pound for pound. A win over Broner could cement his position among the elite.
It's not an easy fight for either despite the talk by some fans who expect a knockout win. Each fighter has a style perfected over the years into deadly precision. Garcia recently displayed it when he found a lapse in Dejan Zlaticanin's defense and eliminated him with the efficiency of an anvil dropped on a walnut.
But Broner excels in a defensive style of boxing that has seen him face many top fighters over the years.
"He hasn't faced the kind of competition I faced," said Broner when in Los Angeles.
True. But those Broner fought were styles more suited for his Cincinnati counter-punching style in wins over John Molina, Antonio DeMarco and Vicente Escobedo. He's had problems with boxers like Paulie Malignaggi and pressure fighters such as Maidana and Porter.
"We'll have to see what develops in the fight," said Robert Garcia, brother and trainer of Mikey Garcia. "We know he had problems with pressure. But every fight is different."
Sparring in Riverside
On this particular super-hot Friday, the current WBC lightweight champion Garcia is working with a variety of fighters. Each has their own strengths and weaknesses and all are slightly taller than Garcia. But inside the boxing ring he has the ability to maneuver opponents much like a matador in a bull ring smoothly guides and persuades a bull to move where he wants it to move.
"We're at the peak weeks of training camp with the sparring sessions. We're working on 10 or 12 round sparring sessions. I'm working with three or four guys. It's the week where it really pushes you," says Mikey Garcia. "We're working on a lot of little things like speed, power, and footwork a little bit of everything."
With one sparring partner, Garcia pierces his guard with a lead right cross between the gloves like a cobra striking a mouse sticking its head out of a hole in the wall for a fatal second. That one micro-second results in a head snapping blow. But Garcia is not using his full power against sparring partners. He's fighting at 50 percent of his power and sometimes cranks it up to about 75 percent depending on the competition.
Once in a while he allows the opposition to unleash combinations as he fends off their blows with parrying, slips, counters and moving backward or sideways. It all comes naturally for the latest version of the Garcia clan who as a whole have been boxing for more than 30 years.
During one session, a Garcia body shot puts a sparring partner on the ground gasping for air. It wasn't a big blow but placed perfectly and with just enough impact to crumble the sparring partner. After a minute the boxer returns to the sparring war a little embarrassed and more animated.
Another sparring opponent is taller, quicker and stronger than the rest. His combinations are impressive and after one combo, for one micro-second, he stalls to search for a reaction. Suddenly his head snaps back like a bobble head by a long quick left hook. It was a boxing reminder Garcia style that danger lurks at any moment. But this is sparring.
"We try to get people that have that style but they're not Broner," said Robert Garcia.
Another major factor in the looming confrontation will be the extra pounds against an elite fighter who has successfully fought at an even higher weight.
"I've never fought Adrien Broner and he's a little bit bigger but it's not something I have never seen. As far as height and size, we're probably the same but he's been fighting at a higher weight than I have," said Mikey Garcia adding that it makes a difference.
The fight with Broner will be the tilting factor on whether Garcia stays at lightweight or moves up yet another weight division.
"It depends on how I feel after the fight, then I will make a decision. My plan is still to come down to 135 but we'll see what happens after this fight," said Mikey Garcia. "I'm fighting a top contender, a former world champion at 140. I want to get a feel for that kind of opponent."
Some weighty decision will be made in a few weeks. But it's a challenge both fighters are willing to accept.
Check out more boxing news on video at
The Boxing Channel
[h=4]READ:
The Best of the Best: The TSS Mid-Year Awards
[/h]