By Thomas Hauser
Two of boxing's greatest blow-by-blow commentators were in the news last week. On Saturday night, Jim Lampley returned to the sweet science but in a role that was different from the one he'd enjoyed for decades at HBO. Sadly, three days earlier, Bob Sheridan died.
Let's start with Lampley.
With all due respect to Sheridan (we'll talk about his remarkable body of work later), Lampley is widely regarded as the greatest blow-by-blow commentator in boxing history. He was separated from the boxing scene when HBO stopped televising fights five years ago and resurfaced in a new role with PPV.com at Canelo Alvarez vs. Jermell Charlo.
PPV.com is a division of InDemand and streams various entertainment events. As part of its business, it streamed Canelo-Charlo in English and Spanish in the United States and Canada as a source of ancillary pay-per-view income for the promotion.
On August 22, PPV.com announced that Lampley and Lance Pugmire would co-host a live viewer chat during Canelo-Charlo. In keeping with his duties, Jim was in Las Vegas during fight week to generate interest in the fight and PPV.com.
Lampley arrived in Las Vegas on Tuesday night. He was a constant presence at media events, conducting interviews and being interviewed about the fight. His presence benefited the promotion by enlarging the pool of potential buyers who became aware of Canelo-Charlo. And the attention that Jim received was a boon for PPV.com, which became a talked-about alternative platform for buying the fight.
Lampley introduced himself to his PPV.com audience on fight night at 5:04 PM west coast time with a post that read, "After almost 5 years away from live boxing, the entire last 4 days in Las Vegas and the MGM Grand Hotel, the noise, the lights, the people, it's been a hallucinogenic experience."
When the judges awarded Erickson Lubin a stunningly bad decision over Jesus Ramos, Jim declared, "So I spent four years plus away from boxing, and I guess the judging didn't get fixed."
Lampley is a superb ambassador for boxing. His involvement with Canelo-Charlo was good for the entire promotion, not just PPV.com. But fight-night chats aren't the best medium for Jim's talent. And PPV.com shouldn't be his end destination.
Part of the Jim Lampley experience for fans has always been the electric quality of his voice, a voice that generated excitement. By definition, that voice is missing in a written chat. Also, Lampley had an unmatched ability to view ring action and synthesize it into concise, perfectly-worded sound bites as it was unfolding, not several seconds afterward. In a written chat, that quality is lost in transition.
Jim Lampley belongs at ringside behind a microphone, not a keyboard.
Bob Sheridan plied his trade for decades. He had a distinctive announcing style and larger-than-life personality coupled with a love for boxing and the people he met in it.

Sixteen years ago, I profiled "The Colonel" (as Sheridan was known). Bob's resume grew even more impressive after that, capped by his 2016 induction into the International Boxing Hall of Fame. My original article about Bob is republished below as a tribute to a man whose enthusiasm for the sweet science was contagious.


Bob Sheridan was first behind the microphone for a fight in 1966. Since then, he has called more than 800 championship bouts and become an integral part of boxing's historical soundtrack. From radio to broadcast television to closed-circuit to pay-per-view; been there, done that.
[caption id="attachment_78599" align="alignnone" width="300"]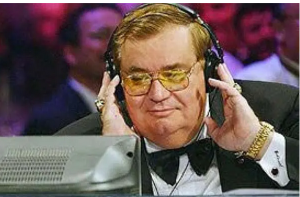 Bob Sheridan[/caption]
Sheridan is the international voice of boxing. He's the commentator for the foreign-rights feed on most major bouts held in the United States and also for many fights overseas that are transmitted by satellite to the US. He was at ringside when Muhammad Ali battled George Foreman in Zaire and Joe Frazier in Manila. He has called the fights of legends like Sugar Ray Leonard, Marvin Hagler, and Roberto Duran. He was behind the microphone when Mike Tyson bit off part of Evander Holyfield's ear. In large swaths of the world, his voice is synonymous with the sweet science.
Sheridan's parents were born in 1905; his mother in County Mayo and his father in County Longford. Both of them came to the United States as toddlers.
Bob was born in Boston in 1944. "None of my grandparents were educated people," he says. "But they were very family-oriented and wise. My father's father, James Sheridan, was a sheet-metal worker in Boston, who died before I could know him. He passed the trade on to my father, who later became a building contractor. My maternal grandfather, Andrew Dougherty, was a farmer in New Hampshire. He knew a lot about Irish history and politics and talked endlessly to me about them."
Sheridan went to college on a baseball scholarship at the University of Miami. "Baseball was my first love," he says. He graduated in 1966 and, that summer, played a few games at third base for the Miami Marlins, who were a Class-A farm team for the Baltimore Orioles. "There was never any chance I'd stay with the club," he acknowledges. "I'd been brought in to fill a spot until some kid they'd signed out of high school joined the team."
His first year out of college, Sheridan also taught physical education in the Dade County school system and hosted his own radio talk show on WDER-FM, a small station in Miami. "I bought my own airtime," he remembers. "It cost ten dollars for a two-hour slot between 6:00 AM and 8:00 AM every Sunday morning. If I sold more than ten dollars in ads, I made a profit."
But WDER-FM led to bigger things. The general manager for the Florida Marlins was Bill Durney, who co-hosted a radio show on WGBS (a major Florida station) with Red Barber. Barber was semi-retired and living in the Sunshine State. In earlier years, he'd been a radio and television baseball play-by-play announcer of legendary proportions. Durney introduced Sheridan to Barber.
"When I was young," Sheridan says, picking up the story, "I wanted to be Babe Ruth. I had a pretty wild lifestyle, and I used to tell people that I was Babe Ruth reincarnated, except I'd been born four years before Babe died and I couldn't play ball like him. However, I did have a tremendous ability to talk, and Red hired me. At first, I lined up interviews for him and read the sports news on his show. Then my role expanded. Red taught me a lot about the business. I learned from him that it doesn't all come from the top of your head. There's research and preparation. I prepare for every fight today like it was my first. I prepare for each undercard fight the same way I prepare for the main event. I learned that from Red Barber."
Working with Barber gave Sheridan exposure throughout Florida. Then boxing entered his life.
The first fight that Sheridan had seen in person was
Cassius Clay's conquest of Sonny Liston in Miami Beach
on February 25, 1964.
"Chris Dundee, the on-site promoter, called our baseball coach at Miami and asked if he could send some kids over to the arena to sell Coke at the fight," Bob remembers. "Half a dozen of us went. I think a Coke sold for a quarter back then. We each made about four dollars, but I wasn't there for the money. I was there for the fight. Clay wasn't the most popular guy in the world, but I liked him. When the main event started, I stopped selling Coke, sat down in an aisle about twelve feet from the ring, and watched the fight. Of course, none of us had any idea of the magnitude of the history that was being made."
In late-1966, Sheridan began calling Chris Dundee's fights in Miami on WGBS radio. Boxing was a popular sport back then. There were fights in town every week, and Sheridan's work became increasingly popular. "The more you do, the better you get," he says. "And as I improved, more things fell into place."
Dundee started taking Sheridan to fights out of town. He was hired to do radio color commentary for University of Miami football games. The first championship fight he called was Jerry Quarry against Jimmy Ellis for the WBA heavyweight title in 1968. Television work followed.
By the mid-1970s, Sheridan had gained a considerable following. Then his life took an unusual detour. He moved to Ireland and began raising cattle on a small farm in County Clare. "It's hard to relate to city people the pleasures of working on a farm," he says. "But remember; my grandfather was a farmer, and I loved horses and cattle."
Sheridan owned ten acres in County Clare, leased a hundred more and, at one point, had two hundred head of cattle." Then the detour got stranger.
"I figured I was breeding cattle and raising them, so why not ride them," he remembers. "I tell people, I was always a bullshitter so bull-riding was the next logical step. Anyway, I took up rodeo bull-riding. In retrospect, it was crazy. This was before flak jackets. There were a lot of bruises and I broke my back one time at a rodeo in Arkansas. I'd fly from Shannon to the United States, do a rodeo, and fly back home again. For a while, I was Aer Lingus's number-one non-commercial account. The last time I got on a bull was in 1981 at Madison Square Garden. I got bucked off in two seconds. The chute wasn't even shut before I was off. After that, I stopped. But it was a very enjoyable period in my life. Rodeo cowboys are great athletes and fun guys to be around. The characters in rodeo are like the characters in boxing."
In late-1981, Sheridan left the cattle business and moved back to Boston. "I loved every minute of it," he says. "But land became too expensive to lease." He now lives in Las Vegas with his wife of ten years, the former Annie Kelly, who was born in County Tipperary.
"I was a hard-drinking womanizing single guy for a long time," Sheridan acknowledges. "I was married once before to another Irish girl, and it was a horrible marriage because I wasn't mature enough to handle it. Whatever went wrong in that one, I'll take responsibility for it. I'm a much better husband now."
In addition to being a better husband, Sheridan is also now a fixture on the international boxing scene. He's behind the microphone for forty fight cards annually, but that doesn't begin to tell the story of his travels. In one seven-week stretch last year, he was ringside for fights in Memphis, the Philippines, St. Louis, Las Vegas, Boise, and South Africa. In 2005, he visited Australia eleven times.
Here, it should be noted that Sheridan has had four heart attacks and twelve angio-plasties. "I have heart attacks like other people have the flu," he jokes. But in the next sentences, he adds," Any health problems I've had are the result of genetics and eating and drinking too much. Don't blame boxing; the traveling isn't a problem. I get a bit tired sometimes, but there's always an adrenaline rush when the fights begin."
"I love boxing," Sheraton says as his thoughts return to the sweet science. "It's the purest sport in the world; it's the greatest sport in the world. And my enthusiasm for it is one of my strengths as an announcer. I'm not a journalist. I don't focus on the negative when I'm commentating. Sure, boxing has problems, but other sports have problems too. My job as a boxing commentator is to give people the facts and entertain the public. I never forget the brutality of boxing and how dangerous it is. I was tough enough to get on the back of a bull again and again. I'm not tough enough to be a fighter. But boxing takes poor kids without hope like Muhammad Ali and Mike Tyson and elevates them to a place where they're among the most famous people on the planet. And each fight is an event. Nothing excites me more than two great fighters getting in the ring for a championship fight."
"There's an old saying," Sheridan observes in closing. "If you find a job you love, you never have to do a day's work in your life. When I'm behind the microphone, I'm happy."
Thomas Hauser's email address is thomashauserwriter@gmail.com. His most recent book –
The Universal Sport: Two Years Inside Boxing
– was published by the University of Arkansas Press. In 2004, the Boxing Writers Association of America honored Hauser with the Nat Fleischer Award for career excellence in boxing journalism. In 2019, Hauser was selected for boxing's highest honor - induction into the International Boxing Hall of Fame.