By Thomas Hauser
Larry Goldberg promoted his sixth fight card at Sony Hall on August 10. There was a touch of stardust in the room because Tony Danza and Federico Castelluccio were there.
Antonio Salvatore Iadanza (Danza's name at birth) was born in Brooklyn in 1951. He made his mark as an actor and is best known for roles in
Taxi
and
Who's the Boss?
Before his success in
Taxi
, he was a fighter.
Hall of Fame matchmaker Bruce Trampler remembers Danza as "a tough kid and all-action club fighter with a brawling style." Legendary trainer Gil Clancy once opined, "Tony is lucky he can remember his lines in
Taxi
because it's obvious from the way he fights that he doesn't remember the instructions his corner gives him."
BoxRec.com lists Danza's ring record as 9 wins against 3 losses with 9 knockouts and 2 KOs by. One of those fights (listed as an April 9, 1978, knockout of "Tony Rodriguez" at an unidentified venue in Brooklyn) might not have occurred.
Most of Danza's opponents had marginal skills. But there were exceptions. For his second pro fight, someone got the bright idea of matching him against John LoCicero (who would win nineteen fights and battle William "Caveman" Lee in a 1981 war that was short-listed for "fight of the year"). It did not go well for Tony. KO by 1.
But give Danza credit. He was a real fighter.
Danza is now 72 years old, weighs 155 pounds (five pounds below his fighting weight), and looks remarkably fit. Several years ago, he decided that he wanted to learn how to play piano. "I practice three hours a day," he says. "I suck but I enjoy it."
Sitting at Sony Hall in Times Square as the fights unfolded, Danza reminisced about his years as a fighter.
"I was a club fighter," he said. "I grew up in Brooklyn and fought on the streets the way some kids play stickball. I could really punch. Unfortunately, I could really catch too. And I kept my chin high in the air which didn't help. If I had to chase you, I looked bad. But if you came to me, I could hurt you. My idea of fighting was to survive long enough to hit the other guy on the chin. Sometimes I'd lose my temper and turn back into a street fighter which was a problem. But I was tough. And I believed in myself. You have to believe in yourself to be a fighter."
"It's rare that a fight comes down to where you have to outwill the other guy," Danza continued. "Usually, skills are the difference. But if it comes down to will and you win, which I did a few times, it feels special. I liked fighting inside. I'd have to go through a bad neighborhood to get there. But when I got inside, I'd stay on top of the guy I was fighting.
"I have so many good memories of being a fighter. I loved it all. I loved the gym. I loved the dressing room on fight night. I loved the fights. One night, I hit a guy with a three-punch combination; jab, straight right, left hook. And I heard the crowd gasp. Another time, I was on the Long Island Railroad. I was sitting next to this girl and I had a black eye. She asked me how I got it and I told her I was a fighter. I was proud to say it.
"For my early fights, my purses were in the hundreds of dollars. Then I got
Taxi
and took some time off from boxing. When I came back, the money was better. Nothing like these guys [social media personalities] are making today. But it wasn't about the money. I look back on my life now and think, 'I'm a garbageman's son from East New York in Brooklyn. And somehow this all happened to me.'"
Federico Castelluccio was born in Naples in 1964 and has lived in the United States since the age of three. He's an accomplished artist who graduated from the School of Visual Arts in New York. But his celebrity status comes in large part from having played Furio Giunta (a bodyguard and enforcer for Tony Soprano) in season 4 of
The Sopranos
. In that season, Furio and Carmela (Tony's wife) develop an intense mutual attraction which Furio understands can lead to no good. So without notice, he leaves the United States and returns home to Italy.
"Things were crazy back then," Federico remembers. "One time, I was on an elevator at Madison Square Garden and, just as the door was closing, Roberto Duran got on. He took one look at me, gave me thumbs up and big smile, and said, 'The Sopranos!'"
In 2014, Castelluccio discovered a 17th-century painting by Giovanni Francesco Barbieri (an Italian artist known as "Guercino") at an auction in Germany. The painting had been misidentified as an 18th-century work. Federico bought it for $68,000. After restoration and other expenses, the cost came to $140,000.
"I'd studied Guercino's work and written a paper on one of his paintings," Castelluccio recalls. "His style was embedded in my brain. So when I saw the painting, it was unmistakable to me."
The painting is now in storage at Christie's. Castellucci and a business partner are co-owners. Estimates are that it will bring between $3,000,000 and $5,000,000 at auction.
"I'm a painter first, then an actor," Federico says.
Castelluccio grew up watching boxing on television with his father in Paterson, New Jersey, and is a lifelong boxing fan. In 2009, he and Burt Young (of
Rocky
fame) were grand marshals for the Parade of Champions that preceded the annual induction ceremony at the International Boxing Hall of Fame in Canastota.
Like Danza, Federico understood what he was watching at Sony Hall and followed the action with a knowing eye. "I love boxing," he said. "It's a sport with a lot of heart."
Then he was asked the inevitable question: "Do you miss
The Sopranos
"Of course," Federico answered. "Everybody misses
The Sopranos
."
[caption id="attachment_77985" align="alignnone" width="300"]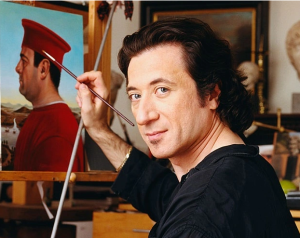 Federico Castelluccio[/caption]
****
A moment of reflection on Edy Valencia Mercado, who was the opponent brought to Sony Hall on April 27 of this year to lose to Tsendbaatar Erdenebat. As expected, Erdenebat won a lopsided unanimous decision.
On July 31, Valencia suffered a cerebral hemorrhage and was hospitalized in a coma following a
knockout loss to George Acosta
in Ontario, California. A source close to the situation says that Edy is no longer in a coma but adds, "The situation is not good. He responds to certain stimuli but his future looks bleak."
Valencia was a mid-level club fighter. He had eight fights during the last nineteen months of his career and won one of them. The fighter Valencia beat during that stretch had a 15-14-1 record. Edy could win if given a realistic chance. The other seven opponents had a composite ring record of 109 wins, 5 losses, and 1 draw at the time he fought them. In other words, too often Valencia was treated as cannon fodder.
He deserved better
****
There was an empty seat at Sony Hall on Thursday night. David Goldberg (promoter Larry Goldberg's father) died unexpectedly on July 22.
I didn't know David well. We sat at the same table at Larry's first four fight cards and had several telephone conversations when David picked my brain about the business side of boxing. He impressed me as a decent man whose word could be trusted; someone you could make a deal with on a handshake. He had a fondness for underdogs and liked saying, "Ten-to-one isn't ten-to-none."
After Larry's first fight card, David told him, "Congratulations! This was your second bar mitzvah." Two shows later, David told me, "I'm very proud of Larry. I had doubts about his promoting at first . But now I think he can make this work."
David died at the much-too-young age of 74. I'm sorry I didn't get to know him better.
Thomas Hauser's email address is thomashauserwriter@gmail.com. His most recent book – The
Universal Sport: Two Years Inside Boxing
– was just published by the University of Arkansas Press. https://www.uapress.com/product/the-universal-sport/ In 2004, the Boxing Writers Association of America honored Hauser with the Nat Fleischer Award for career excellence in boxing journalism. In 2019, Hauser was selected for boxing's highest honor - induction into the International Boxing Hall of Fame.