By Thomas Hauser
On August 9, I listened in on the recording of an interview with Vitali Klitschko that will air on August 19 and August 20 on the nationally syndicated television show
GameTime
.
Boxing fans know Klitschko as an elite heavyweight who reigned as WBC and WBO heavyweight champion during a storied ring career. More significantly from a global perspective, Vitali has been active in Ukrainian politics for two decades. In 2010
,
he helped found an opposition political party called the Ukrainian Democratic Alliance for Reform. Two years later, he was elected to parliament. Since then, he has been elected twice as mayor of Kyiv. Other than president Volodymyr Zelenskyy, Klitschko is his country's most visible symbol of resistance against Vladimir Putin's brutal war of aggression.
As a general rule, GameTime is devoted to sports. Its host, Boomer Esiason, played in the National Football League for fourteen seasons and was honored in 1988 as the league's Most Valuable Player. This interview was about a subject more serious than boxing.
Klitschko was wearing a grey T-shirt under a gray pullover jacket. He cuts an imposing and heroic figure.
The conversation was conducted entirely in English and focused on Russia's invasion of Ukraine. Klitschko appealed for continued support from the United States and the rest of the world. He voiced the view that Putin is mentally ill and talked about the horrors of the war, including the destruction of Ukraine's infrastructure and people being killed by Russian missiles while they were asleep in their beds.
Some of the other thoughts that Vitali expressed follow:
* "Normal life has been destroyed . . . We are talking about the genocide of the Ukrainian people . . . Without help, we can't survive."
* "We don't want to be part of Russia . . . Our prayer is to stop this senseless war, to win this war, and be part of the democratic world. We are fighting for that."
* "Russia destroyed the rules of the world . . . The future of Europe, the future of the world, is being decided now in Ukraine."
* * *
In today's digital age, self-published books about boxing arrive in the mail on a regular basis. Some are written by accomplished journalists. Others are by neophyte authors.
When the Sunlight Goes Dark
- a novel by Oliver W. Tuthill Jr (Austin Macauley Publishers) - is a recent self-published offering.
Tuthill spent a year trying without success to find a traditional publisher or literary agent who would contact publishers on his behalf. Finally, he concluded that, if he wanted to see his book in print, he should self-publish.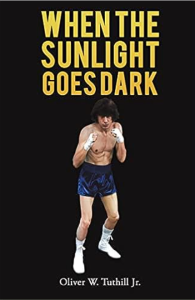 Packages vary from publisher to publisher. Tuthill paid $3,300 to Austin Macauley and $800 to a copy editor. He was dissatisfied with the cover design that the publisher prepared and hired a graphic designer to create a new one. He also paid $130 for his share of a small ad that Austin Macauley placed in
Publishers Weekly
. In exchange, he received twenty copies of the book, thirty flyers, and ten posters. If he wants more books, he has to buy them.
When the Sunlight Goes Dark
is listed on Amazon.com in paperback for $18.95 and in a Kindle edition for $4.50. Tuthill is pleased with the book itself but disappointed by the lack of marketing support from the publisher. He tried to get himself booked on podcasts and radio shows but, in his words, was "amazed to learn almost all of them want to be paid. It is a learning experience," he adds. "I'm not very good with the social media thing."
The book's plot revolves around Bobby Clantinani (a young 154-pound boxer), his older brother, Ted (a heavyweight contender) and their brutal father. Other characters include the beautiful Judith Tesch (who's involved in a love triangle with Bobby and Ted), Robert Rios (a rapacious promoter who's also a stripclub owner), and Benny Bear (a former fighter who trains heavyweight contender Tyler Murphy). Murphy is a psycho who beats up strippers.
There are the usual world sanctioning body shenanigans perpetrated by the corrupt Global Boxing Association, International Boxing Group, and World Boxing Guild. Home Viewer is a stand-in for HBO. Caesars Palace is reimagined as Constantine's Colosseum. There are murders, fixed fights, and a long-count controversy.
On the positive side,
When the Sunlight Goes Dark
is a smooth read. And there are some nice touches. For example, an old trainer sitting in an empty arena tells Bobby that sitting there is "like being in church to me."
But the plot is predictable. When a last-minute substitute results in a mysterious second appearing in Tyler Murphy's corner on fight night, a reader doesn't have to be a rocket scientist to figure out that Murphy's water bottle will be spiked. And little is gained by Tuthill's nod to
The Godfather
in the form of a severed hand being sent through the mail.
The characters tend to be stereotypes. That might pass muster in a 1940s boxing movie. But it's out of place in a 21st-century novel where readers expect characters, not caricatures. Bobby Clantinani is heroic. Ted Clantinani is a cad. Their father (the brutal Oran Clantinani) punches his long-suffering wife in the face with regularity (knocking her unconscious and breaking bones in the process). Oran also smothers a cute little puppy to death in the manner of Tony Soprano murdering Christopher Moltisanti on
The Sopranos
.
And there are times when the writing is a bit much . . . "If Greyhound bus seats could talk, they could tell a thousand tales that would break a strong man's heart" . . . "She smelled divine, a feminine prototype of desire and lust passed down through English genes over the course of hundreds of centuries."
But I'll close on a positive note by saying that, as I read
When the Sunlight Goes Dark
, I was curious to know how things would turn out. And Tuthill is happy with the end result. "I would self-publish again if it was the only option I had," he says. "I feel good about writing the novel, and I am pleased with the printing job the publisher did."
* * *
Yory Boy Campas fought in Tijuana on July 29 (the same night that Terence Crawford devastated Errol Spence). Campas is 52 years old with 128 fights on his ring resume. There was a time when he was good enough to beat faded versions of Raul Marquez and Tony Ayala Jr. But he came up short in his biggest fights and, before Saturday night, had last fought five years ago.
Campas's opponent on July 29 - 43-year-old Juan Carlos Parra Rodriguez - had an 8-26-2 (19 KOs by) ring ledger. Parra last beat a fighter with a winning record in 2003. That fighter's record was 1-and-0 at the time and he ended his career at 1-and-1.
Campas knocked Parra out in the eighth round.
I could say that this won't end well for Campas. But it already hasn't.
* * *
With the 2023 FIFA Women's World Cup nearing an end, it's worth revisiting the experience that one of boxing's great middleweight champions had with soccer.
When Sergio Martinez was seventeen years old, he played forward in the #7 slot for a team called Defensoris in a junior amateur football (soccer) league in the province of Buenos Aires.
"We were playing against a team called Sportman," Martinez told me years ago. "It was a tournament that was important for me to play well in. There were a lot of professional scouts in the stands. If I did well, it could take me places."
"I was very inspired that day," Sergio reminisced. "We won 4-to-0, and I scored three goals. On the first goal, there was a free throw from one of my teammates and I lifted it in an arc with my right foot over the goalie. That put us ahead in the score. The next goal was my best of the game. I stopped the ball with my chest, dribbled it past four defenders, and scored on a finesse kick with my right foot. The third goal was at the end of the game. Their goalie was at midfield. I got the ball, dribbled all the way in, and scored on an empty net. After each goal, everyone was celebrating and hugging. It was an incredible feeling."
"I wasn't born with the instincts that a great football player has," Martinez continued. "My technique wasn't good, but I was fast and strong. My emotions were my Achilles heel. I was very emotional when I played football. The next game was for the championship. There was a tie and the game went to penalty kicks. If I make my kick, we play on. If I miss it, we lose."
"I placed the ball down in front of the goal," Sergio recalled. "Then I got nervous. The goalie got bigger and bigger in my mind and the goal got smaller and smaller. I kicked the ball and it went slowly to the goalie, right to his hands. He didn't even have to move to field it. I was humiliated and embarrassed. It was one of the worst moments of my life. Because of my failure, we lost the championship game. I was so devastated that I quit the team."
Thomas Hauser's email address is thomashauserwriter@gmail.com. His most recent book –
The Universal Sport: Two Years Inside Boxing
– was just published by the University of Arkansas Press. https://www.uapress.com/product/the-universal-sport/ In 2004, the Boxing Writers Association of America honored Hauser with the Nat Fleischer Award for career excellence in boxing journalism. In 2019, Hauser was selected for boxing's highest honor - induction into the International Boxing Hall of Fame.