By Thomas Hauser
Dana White has talked about expanding UFC's role in boxing. But for the most part, his involvement with the sweet science has been limited to club-fight cards on UFC Fight pass.
UFC Fight Pass is a streaming service that was launched in 2013 and offers combat-sports-related content on a worldwide basis. The cost in the United States is $9.99 per month (or $95.99 for a one-year subscription). Subscribers have access inter alia to the early preliminary bouts on UFC pay-per-view cards but not the chief supporting fights or main event.
The first boxing match on UFC Fight Pass featured a past-his-prime Roy Jones vs. Scott Sigmon on February 8, 2018. 360 Promotions (run by Tom Loeffler) is now its boxing promoter of choice. On Thursday, November 9, Loeffler promoted a seven-bout card in the Hulu Theater at Madison Square Garden. The event (seen live on UFC Fight Pass) was timed to feed off the attention being generated by UFC 295, which will take place in the main arena on Saturday night.
The Thursday card was a showcase for Callum Walsh, a 22-year-old native of Cork, Ireland who now lives in California. Walsh (pictured) entered the ring with an 8-0 (7 KOs) ring record and was matched against Ismael Villarreal (13-1, 9 KOs) in a ten-round junior-middleweight bout.
White hopes that Walsh will tap into the Conor McGregor fan base and become the next face of Irish boxing. With that in mind, he has put the UFC publicity machine behind him.
"Callum is getting a lot of support from UFC social media," Loeffler noted at the final pre-fight press conference. "That gives him exposure to a wide audience." The promoter then went into overdrive, declaring, "Callum has the makings of a global superstar."
Talk like that is fine with Walsh, who says, "I've never wanted to do anything with my life but box. I've imagined myself in the spotlight for so long that the attention I'm getting now seems normal to me. I feel like I'm destined for greatness. I'm on the road to where I want to be."
When fight night arrived, the seven fighters in the red (designated winners) corner had a composite 83-1-1 ring record built largely against suspect opposition The assumption (which proved correct) was that the numbers would be 90-1-1 when the night was over.
Cain Sandoval (now 11-0 with 11 KOs) looked like the most promising prospect on the card en route to a fifth-round stoppage of a game but overmatched Wesley Ferrer.
Eric Dali (who worked two of the bouts) showed again why he should be one of the go-to referees for big fights on the east coast.
Freddie Roach (who trains Walsh and two other fighters on the card) ennobled the proceedings with his presence.
Walsh is a southpaw with fast hands and reasonable power. Against Villarreal, he was the aggressor early. Then Ismael began letting his hands go. And after getting whacked a few times, Callum grew more cautious.
It was a good fight. Villarreal came to win. But so did Walsh. Callum was tested and he passed the test. Ismael tired in the late rounds and Walsh regained control (although he was dropped in the final stanza). The judges' scores (97-92, 97-92, 96-93) were a bit wide of the mark. But the right guy won.
The current plan is for Walsh to return to Madison Square Garden next year on St. Patrick's Day Weekend. At the moment, his press clippings have outstretched his accomplishments. But Callum has skills. He can punch. UFC has the infrastructure to promote fighters from ground level to major pay-per-view events. And as Jake Paul has taught us, this is a new age in boxing. The marketing of a fighter can now take precedence over his ring exploits.
*****
On November 7, DiBella Entertainment promoted a pro-am card at the Edison Ballroom in New York. "Heroes On The Hudson" was sponsored by Morgan Stanley and Cavu Securities with a portion of the proceeds going to charities that support wounded veterans. The action in the ring was typical club fight fare. And as the evening progressed, my mind wandered to Cedric Kushner.
Kushner died eight years ago and would have been seventy-five this year. He had a variety of nicknames. But the one that stuck among his friends was "Uncle Ced."
[caption id="attachment_79035" align="alignnone" width="219"]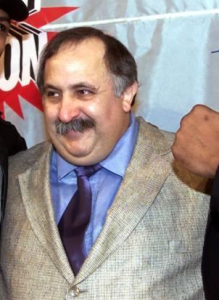 Cedric Kushner[/caption]
Cedric loved a night out with the boys. He was known for doing business with women of the night. And there was a memorable telephone call that he received from
heavyweight contender Ike Ibeabuchi
at three o'clock one morning. Ibeabuchi (who had significant mental health issues) called to tell Cedric (his promoter) that he was seeing demons. Cedric, in turn, told virtually everyone he spoke with the next day, "Knowing Ike, I understand why he was seeing demons. What I don't understand is why he called me."
When I began writing about boxing on a regular basis, I was dismissed by many of the sport's power brokers as a fringe internet writer so I was accustomed to slights. Often, I found myself in conversation with a promoter or other insider who was looking over my shoulder for someone better to talk with. That never happened with Cedric. He always treated me with the same respect that he accorded major media figures. I was grateful for that. His memorial service (at which I spoke) was held at the Edison Ballroom with Lou DiBella presiding.
Everyone has their own favorite Cedric Kushner story, whether it's about the hooker with knockout drops on her nipples or the duffel bag full of cash that Don King used to lure Hasim Rahman away from Cedric. Mine involves a drive from Atlantic City to New York that I shared with Cedric and Lou DiBella on the morning after a fight.
Lou was driving. There were three of us in his SUV. At various times, Cedric unfavorably critiqued Lou's driving skills and complained about the music that Lou was playing. At one point, we stopped at a turnpike plaza for gas and a bite to eat. Most of the food lines were short. The exception was the line for Burger King (which looked to have a half-hour wait). So, of course, Cedric made his way toward the line for Burger King.
"Cedric," Lou cautioned, "don't get on that line."
"I want a Whopper."
"I'm not staying here for two hours so you can eat a Whopper."
Needless to say, Cedric got on the line for Burger King.
"Cedric, I'm warning you. I'll leave you on the f****** turnpike."
Lou could be loud. And Cedric, who weighed more than 350 pounds at the time, was wearing shorts. So their exchange (which was growing increasingly animated) attracted considerable attention.
Cedric emphatically repeated his declaration. "I want a Whopper!"
"Cedric, so help me, God!" Lou was shrieking now. "I will f****** leave you here on the f****** turnpike and you'll have to f****** find another way to get back to New York."
Assessing the situation, Cedric concluded that, yes, Lou might actually leave him on the turnpike. So he joined me on the line for Sbarro to get a slice of pizza.
Slicing pizza is an inexact science. The young man behind the counter (he was about sixteen) gave me my slice and then gave a slice to Cedric. My slice was noticeably larger than Cedric's.
Cedric looked at my slice and then at his . . . Looked at my slice and then at his.
"Excuse me," Cedric said to the server. "Could you explain to me why his slice (gesturing toward my plate) is so much larger than mine?"
You could see the wheels in the young man's head turning as he weighed how much of a wise-ass he should be. Finally, he said simply, "Hey! That's life."
Cedric contemplated the remark; decided that, yes, this was another one of life's indignities; and paid for his slice. Then, as we were walking away from the counter, he turned to me and said, "I'm not a vengeful person. But I hope that young man is slicing pizza for the rest of his f****** life."
Thomas Hauser's email address is thomashauserwriter@gmail.com. His most recent book –
The Universal Sport: Two Years Inside Boxing
– was published by the University of Arkansas Press. In 2004, the Boxing Writers Association of America honored Hauser with the Nat Fleischer Award for career excellence in boxing journalism. In 2019, Hauser was selected for boxing's highest honor - induction into the International Boxing Hall of Fame.
Last edited: