By Thomas Hauser
Earlier this year, the Metropolitan Opera Company at Lincoln Center in New York mounted a full production of
Champion
- an opera based on the life of former world welterweight champion Emile Griffith. Since then, The Met has continued to augment traditional offerings with more modern operas.
X: The Life and Times of Malcolm X
is its most recent contemporary presentation.
The music for "
X"
was written by Anthony Davis, who has been heralded by the
New York Times
as "the dean of African-American opera composers." It was first produced in 1985. Since then, Davis has been the driving force behind operas devoted to subjects ranging from the 1839 Amistad slave mutiny to a 1989 incident in which five black and Hispanic teenagers were imprisoned (and ultimately exonerated) after being accused of raping a white woman in New York City's Central Park.
"I'm drawn to people and events that are the nexus of a cultural shift," Davis says. In 2020, he was awarded the Pulitzer Prize for Music. Now, almost four decades after its premiere, a revised and expanded version of
"X"
has made its way to opera's grandest stage. The November 18 performance will be broadcast live in high definition in fifty countries around the world. In the United States, the telecast will be available in close to one thousand cinemas.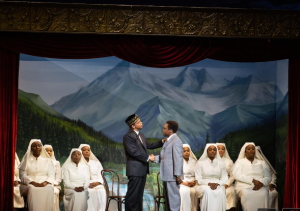 Malcolm X was a key figure in Cassius Clay's conversion to the Nation of Islam. But when Malcolm split with Nation of Islam founder Elijah Muhammad, the newly-renamed Muhammad Ali sided with Elijah. Thereafter, most likely with Elijah's foreknowledge, Malcolm was assassinated. Decades later, Ali acknowledged, "I believed that Malcolm was wrong and Elijah was God's Messenger. I was in Miami, training, when I heard Malcolm had been shot to death. It was a pity and a disgrace he died like that because what Malcolm saw was right. And after he left us, we went his way anyway."
Ali isn't portrayed in
"X"
. In part, that's because, while Malcolm played a pivotal role in Cassius Clay's transformation into Muhammad Ali, Ali wasn't a significant force in Malcolm's evolution.
"You can do just so much," Davis explains. "With all the themes to develop in Malcolm's life, it would have been hard to do justice to the closeness between Ali and Malcolm and then show Ali abandoning Malcolm to go with Elijah. But Ali would be a worthy subject for an opera in his own right."
And how might that be structured?
"It's a compelling story," Davis says. "I'd want to show Ali's courage, his sacrifice, his flamboyance, what he represented for Black manhood. I'd probably end it after his third fight against Joe Frazier in Manila. Joe Louis would be an interesting subject too. And Jack Johnson. But if I had to choose one of the three, it would be Ali."
*****
If you have an amazing coincidence file, put this in it.
Jim Lampley and Bob Sheridan
are widely regarded as two of the greatest blow-by-blow commentators in boxing history.
In 2002, I interviewed Lampley and asked what the first fight he ever saw live was. His answer? Cassius Clay's conquest of Sonny Liston in Miami Beach on February 25, 1964.
"We lived in a tract house in Miami," Jim reminisced. "I was fourteen years old and a huge Cassius Clay fan. Most of our racist neighbors were offended by the Negro braggart, but he had me totally enthralled. Anyway, I saved up all of my lawn-mowing money and all of my car-washing money and bought what memory tells me was a $100 or $150 ticket. My mom dropped me off at the Convention Center before the fight and picked me up at a designated spot afterward. And when we got home, I was so excited that I climbed onto the roof of our house and started yelling, 'I am the greatest! I shook up the world.' And that was it. I didn't go to another fight until my audition call for ABC Sports in January of 1986 when Bert Cooper fought Reggie Gross."
Five years later, I interviewed Sheridan and asked what the first fight he ever saw live was. His answer? Cassius Clay's conquest of Sonny Liston in Miami Beach on February 25, 1964.
Sheridan was a student at the University of Miami and a pretty good third baseman at the time. As Bob recounted, "Chris Dundee, the on-site promoter, called our baseball coach and asked if he could send some kids over to the arena to sell Coke at the fight. Half a dozen of us went. I think a Coke sold for a quarter back then. We each made about four dollars but I wasn't there for the money. I was there for the fight. Clay wasn't the most popular guy in the world, but I liked him. When the main event started, I stopped selling Coke, sat down in an aisle about twelve feet from the ring, and watched the fight. Of course, none of us had any idea of the magnitude of the history that was being made."
In other words, two of the greatest blow-by-blow commentators in boxing history shared their first live fight. And it was one of the most consequential fights in boxing history.
*****
Tying up loose ends . . .
Two years ago, I wrote a two-part investigative report for The Sweet Science titled "Triller, Holyfield, and Trump: Did Evander Get Hustled?" The article explored the circumstances surrounding Holyfield's ill-advised September 11, 2021, match with Vitor Belfort on Triller and Donald Trump's role in the proceedings.
Trump, readers might recall, was the centerpiece of Triller's "Donald Trump alternative commentary" stream that night with the former president and one of his sons (Donald Jr) offering "live onsite unfiltered boxing commentary" at no extra charge on top of the $49.99 pay-per-view price.
There was speculation then regarding how much Triller might have paid for Trump's services. Now we know.
As reported by the
Washington Post,
financial disclosure forms required as a consequence of Trump's 2024 presidential candidacy reveal that Triller paid Trump $2.5 million in conjunction with Holyfield-Belfort. Triller confirmed that amount to the
Post
and offered the explanation, "The payment made to Trump for his commentary was consistent with the fees typically received by celebrity commentators."
Really?
*****
On February 16, I posted a piece that recounted the results when an AI site called InferKit was asked to generate several articles related to boxing personalities. The results were flawed. And that's being charitable.
Recently, I visited two more AI sites - Bard and ChatGPT - and requested that they tell me jokes about Don King, Eddie Hearn, and Lou DiBella. The results were . . . Drumroll, please . . .
What's the difference between Don King and a banana? A banana doesn't wear bling.
Why did Eddie Hearn cross the road? To get to the other press conference.
Why did Lou DiBella become a boxing promoter? Because he couldn't resist turning every situation into a fight.
It's not as good as Robin Williams or Chris Rock. But I've heard worse.
Thomas Hauser's email address is thomashauserwriter@gmail.com. His most recent book –
The Universal Sport: Two Years Inside Boxing
– was published by the University of Arkansas Press. In 2004, the Boxing Writers Association of America honored Hauser with the Nat Fleischer Award for career excellence in boxing journalism. In 2019, Hauser was selected for boxing's highest honor - induction into the International Boxing Hall of Fame.