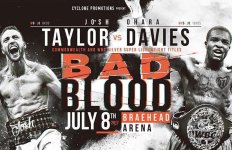 By Matt McGrain
American readers are likely mouthing the words "who?" upon seeing the names of light-welterweights Josh Taylor and Ohara Davies in the headline for this article, and I have some sympathy; but this clash of British prospects which will be played out in the Braehead Arena, Glasgow, Scotland this Saturday night is the most significant such contest since George Groves narrowly outpointed James DeGale in 2011.
Groves won that contest and went on to box two mammoth contests against Carl Froch before finally adding a super-middleweight strap to his armory this May. DeGale meanwhile rallied from that defeat and rules as the world's number one at 168lbs, their meeting producing not one but two fighters of note upon the international stage.
Like Groves and DeGale, Taylor and Davies are at the very beginning of their careers, and like Groves and DeGale they are both unbeaten standing at 9-0 and 15-0 respectively. More to the point both appear at this early stage to be exceptional talents. At stake will be the Commonwealth title, so often a springboard to bigger and better things both in terms of worldwide audience and the financial reward such success can bring.
Josh Taylor, quaintly nicknamed "The Tartan Tornado" boxes out of Edinburgh, Scotland and turned professional in 2015 after securing success as an amateur in both the Olympics (bronze) and the Commonwealth Games (gold) and is promoted by Barry McGuigan who handled the rise of Carl Frampton so deftly. Ohara "Two Tanks" Davies meanwhile, is all professional, boxing as a pro for the first time in 2014 after staging only a handful of amateur contests. "My fighting is style suited the professional game," he has understated; Davies brings all the dig of a man born to punch for pay.* Eddie Hearn has been picking up the tab.
This is a classic match of styles, then, the boxer, Taylor, and the puncher, Davies, although Taylor has left a trail of destruction behind him that hints at his own hitting ability. Not a noted puncher in the unpaid ranks, eight of nine professionals have fallen before him and he is punching with genuine spite.
Both, of course, have feasted on the questionable opposition all too often signed up to fight British prospects. That changed for Taylor in October of last year when he met Dave Ryan for the vacant Commonwealth crown. Ryan is every inch the embodiment of the solidity in the British scene and had taken the title from the excellent Tyrone Nurse who proved himself in winning off the canvas in a difficult fight with Willie Limond who had famously dropped Amir Khan for a count back in 2007.
Ryan, then, was expected to present a tough challenge for Taylor. This was not the case. In just his seventh fight, his first to go beyond two rounds, Taylor crushed Ryan in only five rounds, dropping him twice in the process. At domestic level, it was a sit-up-and-take-notice performance of the highest quality, barracked by a dipping, savage pressure used to break a man who had never before been stopped with punches. In his first defense of his new title, Taylor was matched with 26-5-5 South African national champion Warren Joubert. A natural southpaw, Taylor looks equally comfortable boxing orthodox and it was from this stance that he threw the blistering left hook that finished his challenger.* "He can go right to the top," in the opinion of Barry McGuigan who describes him as "spectacular."
It can be assumed that none of this impresses Ohara Davies who travels up from his London home to what promises to be a white-hot and hostile atmosphere in Glasgow. Davies, too, stepped up a level in 2016 taking on 20-2 Andrea Scarpa for a minor WBC title in his thirteenth contest. Davies looked limited that night, even one-paced, but he won every single round on the cards of all three judges while dishing out some hideous punishment to his teak-tough opponent. In his next contest, Davies looked much more the part against a mainstay of the British scene, Derry Matthews.* Matthews, past his best, was slow off the mark and Davies took ruthless advantage, using his unconventional defensive style – mobile upper-body movement combined with a shuffling judge of range and a chin tucked behind his lead shoulder used to compensate for a pair of gloves generally held at chest height – to slip most of his opponent's work while sticking out a quick, accurate jab.
In the second, he added his feared right, mainly to the body, but in the third he used that awkward punch to full effect. The shot is hard to read because he throws it with much variety, sometimes looping it around the opposition guard, sometimes throwing it the full length of his stance and sometimes popping it across the shorter distance. What was most impressive about Davies in this fight, however, was how quickly he found the veteran Matthews– and that once he had found him he stayed found until a straight right, right uppercut combination separated him from his senses.
Davies brings a brimming confidence to the ring, and has happily dismissed Taylor's attempt to introduce needle to the build-up as uncharacteristic. Even Taylor's attempts to remove his sunglasses at a recent head-to-head to publicize the contest before advising him that he was going to get "f****** chinned" left the Englishman all smiles. But Taylor is the favorite here.
Nevertheless, this victory may take some getting.* Davies is being framed as a stepping-stone by Taylor's people, but when dealing with a puncher, and an awkward one, a prospect needs to be careful where he steps. The Scotsman appears to have the requisite focus though and this makes him the natural pick.
Two things: even if Davies loses, this will not be the last we hear of him.* More, on his way to the win Taylor might just have to carve out a mini-classic. I would hate for our American readers to miss it.
Editor's Note: Matt McGrain writes from Scotland.
Check out more boxing news on video at
The Boxing Channel